Plans to charge polluting vehicles to drive in the Greater Manchester area have been referred back to government by local leaders following a wave of protests.
Under the plans from 30 May, the most polluting buses, HGVs and non-GM licensed taxis and Private Hire Vehicles would be charged between £7.50 and £60 daily to enter the city's Clean Air Zone (CAZ).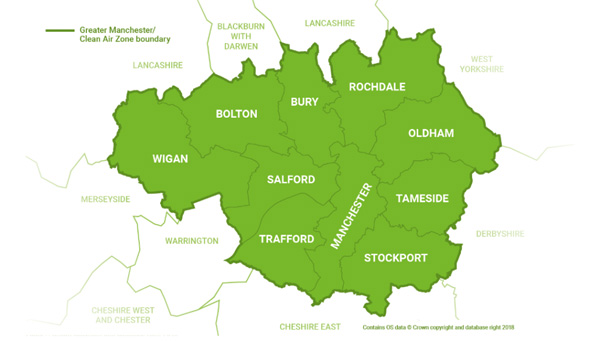 However, the plan was greeted with mass demonstrations from taxi drivers, thousands of angry social media comments posts and even a protest involving a sheep and a pony on a bus.
Following a meeting at Manchester Town Hall, Greater Manchester mayor Andy Burnham Tweeted: 'I am pleased that Greater Manchester councils have just voted to refer the Clean Air Zone back to the Government.
'GM has tried in good faith to make the Government's legal direction work. However, changes in the vehicle market mean it is impossible to proceed on the current basis without causing real hardship to some of our residents.
'We remain committed to tackling illegal levels of air pollution in GM as soon as possible. This decision opens up the space for urgent, joint discussions with the Government about potential changes to make the scheme fair for everyone.
'I am listening to people's concerns and will always stand up for GM. I am not the final decision-maker but will do everything I can, working with Government, to get this to the right place. I know it's difficult but bear with us and I will keep you posted on progress.'
Original roll-out plans:
Phase 1 (30 May 2022): Daily charges for non-compliant HGVs, buses, and non-Greater Manchester licensed taxis and private hire vehicles.
Phase 2 (1 June 2023): Daily charges for non-compliant vans, coaches (on application), light goods vehicles (LGVs), minibuses, Greater Manchester-licensed hackney cabs and private hire vehicles.
In March 2020, the Government issued a legal direction requiring the 10 Greater Manchester councils to address the clean air issue by introducing a Category C charging clean air zone.
Category C affects buses, coaches, taxis, private hire vehicles, heavy goods vehicles, vans, minibuses
It is understood that Manchester is still legally directed to achieve compliance in the shortest time possible and not later than 2024.
The Manchester councils' vote came after a report to the authority raised concerns that the scheme will potentially create financial hardship for commercial vehicle users.
The report recommended that the region request permission to temporarily put the CAZ on hold.
It is understood Greater Manchester will ask Government to pause the nearly £100m of clean vehicle funding support it was due to issue to the region from the end of January.
Greater Manchester said it wants the Government to undertake an urgent review of the light goods vehicles market, amid evidence of issues in the supply chain increasing the price of second-hand vehicles.
Ministers had set aside £120m to help eligible drivers in Greater Manchester, including small businesses, the voluntary sector and HGV owners, switch to compliant vehicles.
Manchester has a strained history with road charging. While London introduced a congestion charge in 2003, plans for Britain's biggest congestion charging zone in Manchester were rejected in a city-wide referendum in 2008.