To mark National Pothole Day this year (14 January), proud sponsors UltraCrete have brought together key industry figures to discuss the importance of innovation in UK roads.
Some of the key industry figures working with UltraCrete to raise debate and awareness around National Pothole Day 2022 include passionate campaigner Mr Pothole (AKA Mark Morrell); Nadia Kerr, head of cycling litigation at JMW Solicitors; Neil McKee, managing director at Emtek; Colin Brown, director of campaigns and political engagement for Motorcycle Action Group; and Yorkshire Water.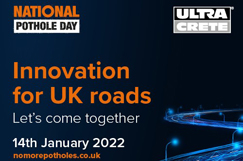 'National Pothole Day brings all organisations together to talk about how we can support our road network and how we can drive things forward. Whether it's through innovation of new products, machinery or techniques used, it's incredibly important that we all come together on this day,' said Richard Moss, brand manager at UltraCrete.
During UltraCrete's discussions with these figures, innovation emerged as a central theme and critical to success.
'The roads are a mess. We need to rely on innovation to try and help us get to a better state,' said Ms Kerr of JMW Solicitors.
Mark Morrell, AKA Mr Pothole, said: 'There's a massive challenge with government cuts, another 20-25% for highway authorities, so that pot of money is under even more pressure. The only way to get out of that cycle is through innovation.'
Ultracrete said: 'Change doesn't happen overnight but by adapting methodologies and developing new products and technologies we have the capacity to make and see real change on our road network, and it is this exact reason why this year's National Pothole Day theme is Innovation for the Regeneration of UK Roads.'
Previous campaigning has included driving a bright orange tank through London and surveying over a thousand road users to understand how poorly maintained roads impact everyday lives.
Follow #NoMorePotholesUK on social media to take part and share your thoughts on this year's campaign. UltraCrete will also host webinar on the Pothole Crisis on 14th January 2022.
To take part in the Webinar please visit instarmactrainingacademy.co.uk.