Hardstaff Barriers has launched a precast concrete barrier which it said cuts carbon dioxide emissions by half compared to the standard product.
The company, which is part of manufacturer and supplier of vehicle restraint systems Hill and Smith Infrastructure, described the REBLOC RB80XA H1 as part of its commitment to meeting net zero across its operations by 2040.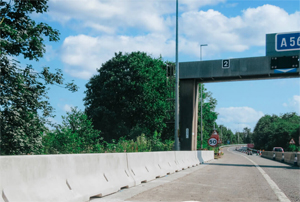 It added that the barrier, which has been crash tested to meet EN1317 standards, is the new benchmark precast concrete barrier supporting lean construction programmes in the market.
Head of solutions Nigel Bullock said: 'As a business we are consistently exploring product innovations that ensure our manufacturing and installation systems are sustainable and drive our decarbonisation target.
'The REBLOC RB80XA H1 has transformed our precast offering with a rigid concrete barrier which significantly minimises carbon impact.
'Combine this with a product which has been designed to achieve minimal civils work and managed construction risk – meaning decreased site time, reduced site traffic and shorter construction programmes – and we are delivering a real positive contribution to the sector's overall carbon impact.'
Hardstaff said the new barrier requires 50% less steel and 20% less concrete compared to the original model, meaning that over 1,000 metres it offers a 5,250kg reduction in steel and requires 40 cubic metres less concrete.
It added that using a low carbon concrete mix reduces carbon emissions by a further 33%.