Tarmac and SH Structures have achieved a major milestone on a transformational project in Cambridge with the delivery of the new Abbey Chesterton Bridge.
The bridge arrived in three substantial sections on separate wide-load HGVs under a police escort, ready to be lifted into its final position later this year.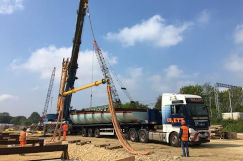 Despite the complexity of the operation, the work was carried out safely under the strict social distancing measures in accordance with national construction site guidance, Tarmac said.
Funded by Cambridgeshire County Council, the new bridge will form a key part of phase one of the Chisholm Trail, a sustainable cross-city transport scheme brought forward by the Greater Cambridge Partnership.
The trail will provide walking and cycling connections to the railway stations in the north and south of the city, as well as important employment hubs including the Cambridge Science Park and Cambridge Biomedical Campus.
Andy Brown, director of Tarmac's Infrastructure business, said: 'This important new route will help to support sustainable travel across Cambridge long into the future, with this significant new infrastructure set to provide economic, health and wellbeing benefits for local people all over the city.
'We would like to thank local residents for their cooperation and understanding during this important and exciting phase of the project, as well as to our teams for carrying out the delivery so efficiently and safely under strict social distancing measures.'
Phase one of the Chisholm Trail will focus on the northern part of the route and will open up green spaces across the city.
The trail was first proposed by local cycling campaigner Jim Chisholm and his colleagues in the late 1990s.
Cllr Lewis Herbert, Cambridge City Council leader and Greater Cambridge Partnership board member, said: 'The cross-city Chisholm Trail cycleway has been championed for over a decade by our cycling community and backed by councillors – so the arrival of this bridge is a landmark moment in its delivery.
'The Chisholm Trail will unlock the east of the city by bike for many people – a new, safe and attractive way to discover the beauty of our city while getting swiftly to jobs, education and our railway stations, as well as opening up great extra routes for leisure cycling.'
More information about the Chisholm Trail is available at www.greatercambridge.org.uk/chisholm-trail