At the Pavement Preservation and Recycling Summit in Nice at the end of March, Professor John Read of Shell Bitumen looked forward to a new concept of mobility, leading to 'a new mindset for roads'.
In a presentation titled Roads and the mobility of the future, Prof Read, general manager technology at Shell Specialties, stressed the need to understand societies' needs in a changing world, including population growth, technology-driven individual empowerment and environmental constraints.
A new concept of mobility will see vehicles become connected, electric and autonomous, user-centred and shared, he said.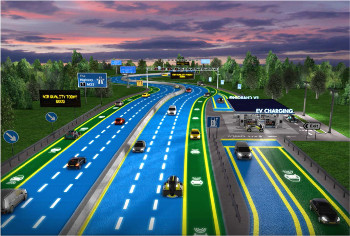 In future, there will be a new data ecosystem where information from cars, roads and traffic signage converge.
With cars powered by electric batteries and having autonomous-drive technology, mobility as a service will be accessible from personal devices and access to vehicles will be shared to allow more flexibility and convenience.
The new mindset for roads means that they must get better at what they already do, as well as smarter. Roads will need to perform better and be more resilient, last longer and be self repairing, be safer with clear binders that also glow in the dark and better skid resistance, as well as providing cleaner construction solution, including allowing for recycled material use.
They will also be required to fight air pollution by capturing polluting particles and generate energy by capturing solar or traffic energy, as well as performing at high standards in extreme climate conditions and allowing data capture and transfer.
Prof Read said 'the road ahead' will require innovation, engagement collaboration and 'a new framework'.
Innovation will have to be accepted and adopted faster than ever before and will be 'a must' in order to efficiently address future challenges, he argued.
Society and public stakeholders will need to fully endorse the innovation mindset, while engagement 'needs to be real and translated in real projects and support'.
Collaboration will mean all players of future mobility ecosystem working together to make the vision of future mobility a reality, with a common vision and a long-term shared strategy, while the necessary new framework will entail a new way of working and new business models for all players in future mobility and holistic approach to road mobility.