Lord Davies of Gower has been appointed as a junior minister in the Department for Transport, replacing long-serving minister Baroness Vere.
Prior to his appointment as parliamentary under secretary of state (roads and local transport), Lord Byron Davies (pictured) had been a Lord in Waiting (government whip) since September 2022.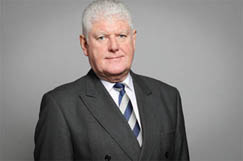 He was a Member of Parliament from 2015 to 2017, before which he was a Member of the Welsh Assembly from 2011 to 2015. He is a former detective with the Metropolitan Police.
Baroness Charlotte Vere, who had been parliamentary under secretary of state at the DfT since April 2019, was appointed parliamentary secretary at the Treasury as part of a reshuffle that saw three of five ministers replaced.
One new minister, Anthony Browne, has taken over responsibility for cycling and walking from Jesse Norman, who announced that he was leaving the Government as the reshuffle began on Monday morning.
Cycling UK chief executive Sarah Mitchell said she hoped that Mr Browne 'will be able to re-establish the positive rhetoric on our transport options'.
She said: 'Cycling UK looks forward to working with Anthony Browne as he takes up the role as the new minister for cycling and walking in England.
'Given the minister's former role as vice chair of the all party environment group, we know that he will have a strong sense of the environmental benefits of more people choosing to walk and cycle for short local journeys - we hope that he'll support the policies and funding that help make this a reality.'