Highways publisher the Hemming Group and the Institute of Highway Engineers (IHE) have signed an agreement that will see the IHE continue its relationship with Highways magazine and the Highways Awards, as well as providing CPD accreditation for many of Hemming's Traffex events.
In addition, all IHE members will continue to receive a copy of Highways magazine as part of their subscription.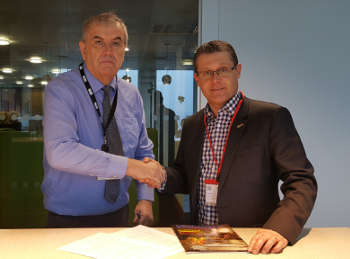 IHE chief executive, Richard Hayes, and head of business development at the Hemming Group, Neil Levett, signed the new one-year rolling contract in March.
Mr Hayes said: 'IHE are delighted to continue their association with Hemming Group, which has developed the industry's leading periodical and online news and topical affairs for the industry. We both have a similar mission to inform and educate the highway community and IHE looks forward to developing more joint initiatives.'
Mr Levett said: 'As an IHE member myself, I am very proud to have reached this new agreement. It provides a great profile for the IHE within the sector though our magazines, websites, exhibitions and conferences and also puts them alongside our other partners such as Highways England, Transport Scotland, the Institute of Asphalt Technology and ITS(UK).'
The Hemming Group recently announced the rebranding of its portfolio of events for the highways and traffic-management sector under the world-renowned TRAFFEX brand.
• TRAFFEX, the 30 year old, biennial event for the highways and traffic related sector, takes place at the NEC in Birmingham on uneven years.
• TRAFFEX Seeing is Believing is held at Bruntingthorpe on even years.
• TRAFFEX Road Expo Scotland runs every November in Edinburgh.