PTV Group's UK growth has continued with three significant new contracts.
The Group has secured on work on predicting the effect of electric vehicles on the National Grid, helping Jaguar Land Rover simulate the movement of Connected and Autonomous Vehicles (CAV) and continuing to supply Transport for London with tactical and modelling software.
To the first announcement, PTV UK is part of a consortium, which includes Scottish Power, and looks at how to deliver the greater demand on the electricity supply caused by the uptake of electric vehicles.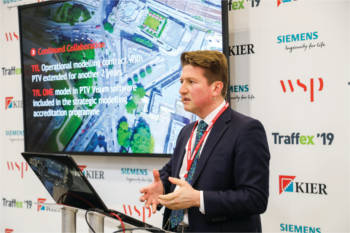 It will do this by modelling the optimal locations of charging points and when they will be needed. It will also look at existing capacity on the network and distribution.
In publishing the outcomes of the research and development, the consortium will fulfill its objectives to Ofgem and make available their findings to the other UK DNOs and stakeholders.
In its new contract with Jaguar Land Rover, the company will provide the microsimulation tool for testing CAV concepts, modelling how humans and autonomous vehicles will interact with each other, thus optimising such things as their driving algorithms and power train requirements in a repeatable way.
With co-simulation forming part of a test bench solution – Jaguar Land Rover engineers can link the driving behaviours from PTV Vissim with that of their vehicle dynamic algorithms, comfort and human interaction design, power train assessments and the ability to replicate real-world testing scenarios in a repeatable way.
PTV UK has also extended its supply contract with Transport for London for a further two years for modelling operational and tactical highways assessment and microsimulation as well as the ONE model in PTV Visum being added to the TfL Strategic Modelling Accreditation Scheme. Already in use for design and strategy modeling, the contract will ensure continued improvements and monitoring within the capital.
PTV UK director Devrim Kara (pictured above) said: 'PTV's suite of modelling software, such as PTV Vissim and Visum, is relied upon by transport planners across the UK and around the world because of its accurate simulation of the way people and goods move around.
'These three announcements at Traffex 2019 underline the growth of the UK business thanks to the excellent work of the team of expert professionals and are further proof that PTV provides the very best transport modelling you can buy.'