A survey of councils has highlighted COVID's impact on parking revenue, with responses also suggesting the pandemic could accelerate a shift in parking policy and processes.
The snapshot survey of 35 authorities found more than half (57%) had provided free parking for everyone during the first months of the pandemic, with an additional 14% providing free parking for key workers.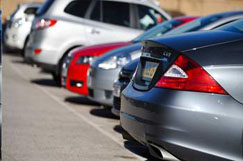 There was also an 86% reduction in enforcement, with over half suspending it completely.
Policy and process
More than 90% said political considerations were 'driving parking policy' and 78% said air quality was guiding policy.
Just over 40% of local councils want to be able to provide dynamic pricing based on availability and 56% 'are looking to make more data-driven decisions'.
Also, 72% said they expected to see phone based parking payments take priority.
At the top of the goals list for parking managers was 'achieving budgets' (57%) followed by saving on costs (43%).
Another important topic was accessibility - 70% said ensuring good accessibility was important while 76% said it is now driving policy decisions.
The survey was conducted by cashless parking provider, RingGo.
Peter O' Driscoll, UK managing director for RingGo, said: 'We understand how different, and difficult, 2020 has been for many of our customers and partners. However, it is great to see that they are taking it in their stride, learning from many of the decisions they were forced to make during the pandemic and turning these into opportunities.
'From embracing touch free parking to using data and becoming more environmentally conscious, these transitions would all have taken longer under any other circumstances. At RingGo, we have been working on these areas for years, so we are ready to hit the ground running – or driving – with all of our partners.'
The survey was carried out during July and August 2020 with parking managers from RingGo's 140 local authority customers emailed - a quarter of these responded.