The Department for Transport (DfT) has published guidance to help councils apply for a share of nearly £350m to improve local roads.
Under the Local Highways Maintenance Challenge Fund, £198m will be available for 2019/20 and 2020/21, while a total of £150m will be available in 2021/22 and 2022/23 Under the Pinch Point Fund.
The guidance for the Pinch Point Fund states that it aims to boost economic growth through measures to ease congestion and improve journey times.
Nevertheless, the guidance suggests that a wide range of sustainable transport measures could secure funding. It states that projects could include road widening, additional traffic lanes to reduce congestion, additional footway or cycleway provision.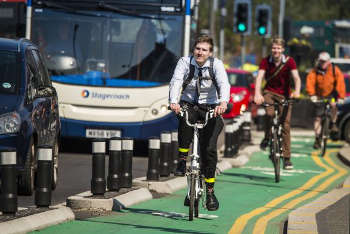 A project might also involve replacing a junction with a roundabout or traffic signalled arrangement to improve traffic flow, aim to address severance caused by highways, or provide new pedestrian facilities.
Proposals could include bus priority measures to improve journey times, bus lanes or signalling to give priority at junctions, bus gates or measures to ensure compliance. Cycle priority at junctions and other measures to improve cycle safety might be proposed.
The fund will operate via a full competition over two phases, 'with the first acting as a light-touch process to reduce the burden on authorities'.
Expressions of interest should be submitted by 31 January 2020, after which authorities successful in passing to phase 2 should provide 'a further and detailed submission'.
The guidance for the Challenge Fund explains that it is to enable councils bid for major maintenance projects that are otherwise difficult to fund through the usual formula needs element allocations from government.
During the current financial year, £98m is available and each council can submit one bid for up to £5m. The DfT is also seeking expressions of interest − but not bids − for larger projects in 2020/21 with a minimum DfT contribution of £5m each, for which a total of £100m is available.
The deadline for both is 31 October.
Eligible types of project under the Challenge Fund
structural maintenance, strengthening or renewal of bridges, viaducts, retaining walls or other key structures, footbridge or cycle bridge renewal
major maintenance, full depth reconstruction of carriageways, and structural maintenance of tunnels
resurfacing of carriageways including improvements to footways or cycleways that are within the highway boundary
renewal of gullies and replacement of drainage assets