A major utility company is trialling the use of plastic waste in footway reinstatements.
UK Power Networks is leading a joint project with reinstatement contractor Stanmore Quality Surfacing (SQS), in partnership with Surrey and Kent county councils.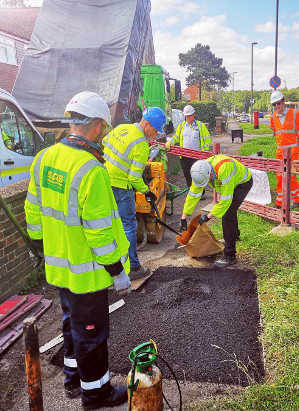 The trial will use a product developed and patented by Scottish company MacRebur to substitute a small part of the bitumen binder used in asphalt.
The bitumen is replaced by plastic collected from household waste such as bottles, bags and packaging.
MacRebur says the asphalt can cope better with contraction and expansion caused by changes in the weather, reducing cracks and potholes, although others in the industry have expressed scepticism on this point.
Mark Baker, senior groundworks manager at UK Power Networks, said: 'This is the first time waste plastic has been used on Surrey's street works and if tests prove successful, this could pave the way for wider use by other utilities.
'We're always searching for innovative ways to reduce our environmental impact. In future, when we dig up the roads to upgrade, repair or make connections to our electricity networks, we could also be reducing the amount of plastic burnt or sent to landfill.'
Daniel O'Mara, director of street works at SQS, said: 'This is the first major UK trial of this material constructed by hand. Hand lay reinstatements make up a significant proportion of the two to three million utility and highway authority excavations dug annually in the UK, so it is vital we understand its workability and performance.
'We already produce 100% recycled granular materials which fill utility holes and remove the need for quarried, virgin stone. To be able to surface these works with another alternative material, containing a recycled constituent, is fantastic, and anything anyone can do to make an impact on the waste plastic epidemic the world faces is a positive.'
In the trial, UK Power Networks and SQS will use 17 tonnes of asphalt containing the equivalent of 14,571 single use carrier bags or 5,100 plastic bottles.
UK Power Networks said the trial will prevent 51kg of plastic being incinerated or sent to landfill, saving 160kg in carbon dioxide emissions.
The new material is currently being used for resurfacing following electricity street works on footways in Woking and Burgh Heath, near Epsom, before the trial is extend into Kent.
Kent Lane Rental Innovation Fund has contributed to the cost of the trial.
UK Power Networks said that at each location the new road surface will be tested to ensure it is safe, strong and durable. If tests are successful SQS will work with asphalt suppliers to understand whether it can be used more widely.