Police forces and safer road partnerships should launch programmes of 'covert or random enforcement' making use of mobile speed cameras, a new report argues.
Published by the not-for-profit Road Safety Support (RSS), the report states: 'There are no legal barriers to covert or random enforcement. We are limited only by our own courage in introducing change.'
'Enforcement Strategy - Raising the Game' makes the case that with road fatalities broadly unchanged in the last 10 years or so a new appraoch has to be developed.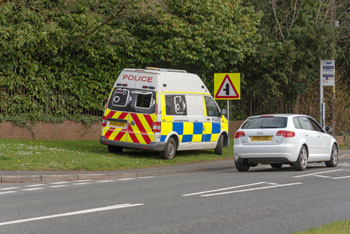 It argues that using stationary speed cameras cannot achieve more progress, but only maintain the progress already made.
RSS recommends police 'adopt a wide area approach to enforcement, and operate a flexible approach to mobile enforcement that is random over the wider area and not selected by rigid criteria'.
Police forces in Northumbria, Essex, Wales and North Yorkshire have already made changes to their enforcement strategies based on the recommendations, RSS said.
Latest Department for Transport (DfT) casualty data shows that there were 1,752 UK road deaths in 2019, which is similar to the levels reported since 2012.
Mobile speed camera vans, which are highly visible and can be utilised over a wider area, should be used to support traditional roads policing efforts, RSS said.
'Mobile cameras can detect offences over a greater range and can be moved around frequently, delivering far greater general deterrence to the motoring public.'
The report has been backed by Det Chief Supt Andy Cox, of Lincolnshire Police, who is the national lead for fatal collision investigation reporting to the National Police Chiefs' Council (NPCC).
Det Chief Supt Cox said: 'Since lockdown, speeding enforcement rose to prominence up and down the country with high amounts of extreme speeding cases being experienced.
'Speeding remains the biggest risk to road safety and should be the number one focus and priority for traffic enforcement. I would urge all forces to follow the recommendations in it in relation to enforcement and communications.'
'Raising the Game' was written by Road Safety Support's enforcement experts, who have worked in speed camera operation in the UK since the 1990s. It explains how many UK police forces are still using a similar criteria that was developed back in 1992 when speed cameras were first introduced in the UK.
The programme was highly effective at first and road deaths and serious injuries were reduced nationally by 42% between April 2000 and March 2004.
Trevor Hall, managing director of Road Safety Support, said: 'Police forces and safer roads partnerships have very effective technology at their fingertips that we know reduces casualties; we have the evidence.
'We just need to adopt a new strategy to use it more efficiently and, through regular, proactive communications, help the public to understand that if they speed or commit other offences on the roads, there is every chance that they will be caught.'