The Road Safety Markings Association (RSMA) has written to transport secretary Grant Shapps calling for all marking companies working on the public road network to be National Highways Sector Scheme #7 (NHSS#7) certified by a UKAS accredited body.
This would bring standards on the local network up to the same level as the strategic road network managed by Highways England, where NHSS#7 is mandatory for marking companies.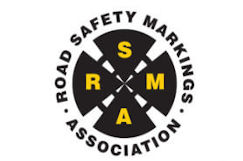 Companies operating to this standard together with BS EN ISO 9001 are proven to prioritise the health and safety of their workforce, focus on quality, maintain a properly trained and competent workforce, meet the industry benchmark for standards and provide a basis for continuous improvement.
All NHSS #7 accredited contractor employees have also achieved or are undertaking the NVQ Level 2 in pavement marking, have demonstrated their competency and skill in the role, and undertake refresher training every four years.
Stu McInroy, RSMA CEO said: 'It is anomalous that road marking contractors working on the strategic road network and the majority of the TfL network must be NHSS #7 accredited, and thus able to demonstrate through audit the required standard of professionalism and safety, but no similar requirement exists across the local authority road network.
'Road marking operatives are often employed on live sites with moving traffic and work with 200C molten material and the health and safety of the workforce is a priority for the RSMA. It is for this reason that the RSMA insists that its contracting members are certified to NHSS #7 and BS EN ISO 9001 by a UKAS accredited body.
'It is essential that road marking operatives are appropriately protected, trained and qualified, that works are completed properly and professionally, that the safety of the road user is maintained and the health and safety of the workforce employed on our roads remains paramount. It is for that reason that I have today written to the secretary of state the urge him to mandate that NHSS #7 certification of road marking contractors becomes a requirement for all road marking activity undertaken on all public roads.'
The letter goes on to say that when not employing NHSS#7 accredited contractors, local authorities have in the past 'failed to protect themselves against prosecution for employing a contractor who has engaged in dangerous practices'.
Mr McInroy adds that there is a 'once in a generation' opportunity for transformative change as a result of the pandemic and it is essential those delivering it 'are appropriately trained and qualified'.
Companies audited by UKAS accredited bodies and certified as operating to the NHSS #7 together with BS EN ISO 9001:
Prioritise the Health & Safety of their workforce.
Focus on quality as an objective.
Reduce costs for client and contractor.
Maintain a properly trained and competent workforce.
Meet the industry benchmark for standards.
Provide a basis for continuous improvement.
Ensure that all processes are planned.
Promote confidence in quality management through robust transparent systems.
Possess appropriate technical knowledge and experience across a fully trained workforce.