Reading Borough Council is proposing a raft of measures to tackle congestion and air pollution, including a possible workplace parking levy.
Proposals in a new Local Transport Plan to be put before the council's policy committee next week include 'a Workplace Parking Levy; a Clean Air Zone / Low Emission Zone; road charging and a package of complementary measures which could include traffic management, access restrictions, park and ride, Mass Rapid Transit and bus priority, public transport information, ticketing improvements and walking and cycling improvements'.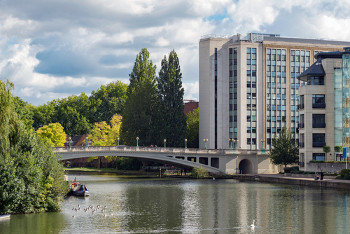 The council said the schemes are part of its three key objectives to reducing congestion, improving air quality and encouraging people to switch to sustainable modes of transport.
It said the workplace parking levy would 'largely follow the model already in operation in Nottingham', which was introduced in 2012 and works by annual charge being imposed on employers with more than 10 workplace parking spaces.
The council said the attractiveness of the town for businesses and new homes has resulted in a population increase and fuelled car use. The plan aims to help it cope with future growth and help tackle dangerous levels of nitrogen dioxide associated with congestion.
Without methods of managing traffic growth it 'is unlikely to be able to meet the identified transport, growth and air quality challenges,' officials said.
Tony Page, lead councillor for transport said a Car Parking and Air Quality Management Strategy would be a key element of the plan, based on up-to-date information on commuter travel and parking in the borough, and the impact on congestion and pollution levels in the town.
He said: 'The council will look closely at demand management measures already in operation in other parts of the country and the benefits or otherwise of introducing such schemes in Reading.
'With Government funding unlikely, a key consideration will include using income generated by any demand management scheme to fund other transport improvements.'
He suggested that these could include road improvements or developing the case for a third Thames Bridge.
Officials said a borough wide survey of commuter movements and parking would take place in the autumn to inform the future strategy.