National Highways is on track to upgrade enforcement cameras that automatically detect vehicles in motorway lanes closed by a Red X ahead of a September deadline.
The signals are used to close live lanes in the event of breakdowns or accidents.
It has been an offence for more than two decades to drive in a lane closed by a Red X but in 2019 a change in legislation allowed evidence to be used for prosecutions from cameras that detect vehicles passing illegally under a Red X or entering the lane beyond it.
However, this required cameras to be upgraded last year National Highways committed to completing of its upgrade programme by the end of this September.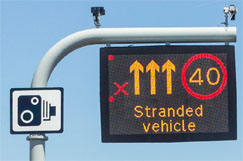 It has now told Highways that nearly all (97%) cameras have now been upgraded and more than three quarters (78%) have been tested and are fully commissioned and able to enforce
National Highways said the programme is likely to be completed ahead of the September target, which was already 10 months earlier than originally planned.
It added that 10 police forces are using automatic detection enforcing Red X, with the remainder expected to commence enforcement this year.
Road safety team leader Jamie Hassall said: 'A Red X signal is there for the safety of everyone on the road – people in difficulty, traffic officers, recovery and emergency services helping them, and all other road users besides.
'Thankfully, the vast majority of drivers do comply with the signals but those who don't put themselves and others at risk.'
The government-owned company said it has joined forces with ambulance chiefs to raise awareness of the importance of complying with Red X signals.
It said it can use the Red X signals to allow ambulance crews and other emergency services to have a clear route, as well as providing ambulance crews with a safe working environment while they are on scene dealing with casualties.
Association of Ambulance Chief Executives (AACE) managing director, Martin Flaherty OBE, said: 'The AACE fully supports the National Highways campaign to improve public understanding of the important role Red X signs over closed motorway lanes play in helping protect drivers and other road users from imminent dangers ahead.
'It is important to remember that 999 ambulances on blue lights may be trying to reach critically ill patients on motorway lanes where Red X signs are in force, for example, after a serious road traffic collision.'