Regions without a sub-national transport body (STB) risk missing out on the proposed major road network (MRN) for England, business leaders have warned.
In a new report, the CBI has warned of a 'two-speed' England unless the Government adopts a coherent approach to improving infrastructure, including an STB with a clear role for each area of the country.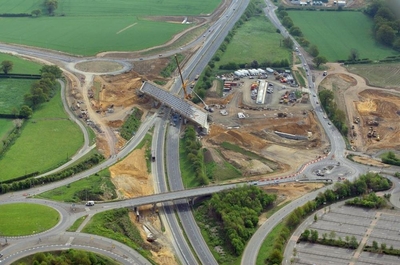 It said its report Driving Delivery: Turning plans into action on regional infrastructure identifies concerns that the complexity of infrastructure decision-making and a lack of transparency around how investment decisions are made are putting the promise of greater connectivity at risk.
Matthew Fell, the CBI's chief UK policy director, said: 'Firms have identified the most important projects across the country, but uncertainty and complexity on infrastructure decision-making is blocking progress, deterring investors and holding back our regions from fully realising their incredible potential.
'Where it's the Government that holds the purse strings on projects, there must be a clearer link between regional growth and decisions that are taken, with STBs making the case for all areas. If not, we risk some regions accelerating ahead of others, creating a two-speed England.'
The report refers to the proposed creation of an MRN as presenting a 'live risk' of regions without an STB missing out.
It highlights the expectation that STBs will provide the evidence base for the MRN, with this work being carried out by regional groups of local enterprise partnerships where no STB exists.
It states: 'Frustration is growing though in those regions that are increasingly viewed as incapable of coming together and moving forward in the best interests of their area. To begin to tackle this, national and local decision makers must ensure that all regions are represented by a sub-national transport body to make their region's case for investment.'
The report also adds to the criticism of the limited function of STBs even when they achieve statutory status, as Transport for the North did this year.
It cites the 'unprecedented' joint statement from the four existing STB bodies, which urged the Government to ensure that STBs have an integral role in the MRN's definition and implementation.
The CBI is calling for:
A commitment in the upcoming Comprehensive Spending Review to increase local transport funding and to consolidate the number of funding pots for local transport investment
Greater emphasis on future economic potential in the Government's infrastructure decision-making to deliver investment across regions
STBs for the South West and East of England, so all parts of the country are represented, alongside clearer expectations of their role
A framework from the Government enabling regions and local leaders to make the most of the opportunities of devolution
A cross-Whitehall Infrastructure Committee, to better coordinate infrastructure planning, decision-making and delivery across government departments.