Renfrewshire Council has launched a five-year £40m roads maintenance programme, which it described as 'the biggest ever sustained investment in our roads network'.
A total of £8m will be spent in 2019/20. More than 125 roads will see improvements undertaken, with 95 seeing carriageway resurfacing and a further 31 receiving initial work ahead of future resurfacing. There will also be work to improve 57 footways.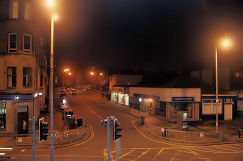 The council said the programme will have 'a focus on quality, long-term repairs, with a significant emphasis on post-repair inspections'.
Cllr Cathy McEwan (centre of picture), convener of the council's Infrastructure, Land and Environment Policy Board, said: 'We've made the largest ever investment in our roads network as, through speaking to our communities, we recognised it was a key priority for local people.
'More than £37m will be invested in the first four years of the programme to make immediate changes to the quality of our roads and footways and ensure their safety for our road users.'
She added: 'We'll continue to review all roads across Renfrewshire through our ongoing inspection programme and where resurfacing works not part of the 2019/20 programme are identified, they will be captured on a priority basis in future years.
'As we continue to develop Renfrewshire into an inviting place to live, work, visit and invest in, we realise the importance of our transport connections and this significant investment will help ensure we have the correct infrastructure to meet these aims.'
The 2018/19 programme can be found here.