New research has found that a natural oil used for hundreds of years by blacksmiths to protect swords and other metalwork could be used to replace toxic paints in maintaining historic metal bridges.
A single coat of linseed oil was applied to bridge structures, which were monitored over a 12-month period.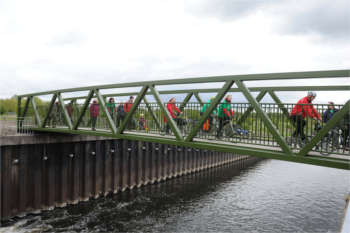 A small number of small coin-sized samples were also placed in an accelerated climate chamber, in which heated salt water was sprayed regularly on the metal discs to mimic weathering over a number of years. Coins were coated with one, two or three layers of linseed oil to investigate whether repeated painting improved the longevity of the protection.
When the researchers returned to the bridges a year later they found the linseed oil was still present, helping protect from corrosion, and in most cases the oil also rejuvenated existing historic paint protection systems.
In the 'accelerated testing' the uncoated coins showed greater deterioration compared to the coins painted with linseed oil.
The study was carried out by engineers Dave Gent and Max Woof on four wrought iron bridges and viaducts in Derbyshire, which are owned by the charity Sustrans and part of the current or planned National Cycle Network.
The 16,575 mile network includes over 800 bridges and structures, many of which are metallic.
Sustrans said it now plans to use linseed oil for future maintenance work and the team will help promote the eco alternative to other bridge owners and conservation groups around the UK.
Dave Gent, chief engineer at Bridgeway Consulting said: 'Although we do need to do more testing, this early study shows that linseed oil has great potential as a relatively cheap, environmentally-friendly alternative to the chemical-based paints that are generally used to maintain metal bridges.
'It is non-toxic and requires no cleaning of the metalwork before application, so the oil could be easily applied by most people and at most locations.'
Paul Thomas, asset manager at Sustrans said: 'This traditional method of metal protection doesn't pollute the environment, and could help save us money for other maintenance projects. As it requires no special skills it could even be carried out by our volunteers.'
The study was published this month in the ICE's Engineering History and Heritage journal.