Motorway services and large petrol retailers will be required to install chargepoints for electric cars under plans announced by ministers as part of the Automated and Electric Vehicles Bill.
MPs are to debate the second reading of the bill on Monday (23 October), after it received its first reading last week.
The Department for Transport (DfT) said the legislation will increase the access and availability of chargepoints for electric cars, while also giving the Government powers to make it compulsory for chargepoints to be installed across the country and enabling drivers of automated cars to be insured on UK roads.
Transport minister John Hayes said: 'We want the UK to be the best place in the world to do business and a leading hub for modern transport technology, which is why we are introducing the Automated and Electric Vehicles Bill in Parliament and investing more than £1.2bn in the industry.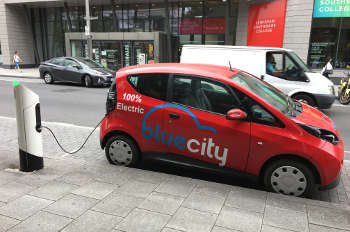 'This bill will aid the construction of greater infrastructure to support the growing demand for automated and electric vehicles as we embrace this technology and move into the future.
The DfT said drivers of electric vehicles will be able to easily locate and charge at any chargepoint, using information from sat navs or mobile apps, regardless of the vehicle make or model.
All chargepoints will have to be 'smart', meaning they can interact with the grid in order to manage demand for electricity across the country.
Steve Gooding, director of the RAC Foundation said: 'We are pleased to see the provisions of the Automated and Electric Vehicles Bill re-starting their passage through the Parliamentary process.
'It is clear that Government needs to do more to accelerate the take-up of electric vehicles, tackling the issues that are currently persuading motorists to stick with conventional fuels, as well as paving the way for autonomy.'
He added: 'The test, though, will be how effectively those powers are exercised.'