A new £42m bypass in Hampshire has opened after 'almost 10 years in the making' and 28 months of construction work.
The 5.5km Stubbington Bypass road diverts through traffic around the north and east side of the village and 20,000 vehicles a day are expected to use it within a year of its opening.
Hampshire County Council said the scheme will improve the environment within Stubbington by reducing traffic volumes and enabling better access for pedestrians and cyclists.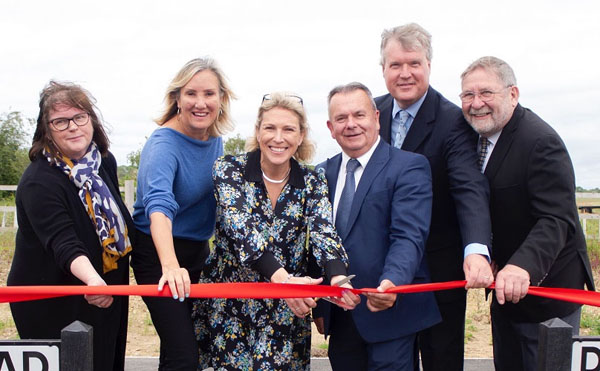 Transport minister Baroness Vere, standing next to Cllr Humby, cuts the ribbon
Council leader Rob Humby said: 'We made a commitment to the people of Fareham, Gosport and Stubbington to improve traffic and travel locally and across South Hampshire.
'This bypass represents a key part of our strategy to improve access into Gosport and Fareham, reduce congestion and increase journey time reliability for road users. Improving the transport network in this way will encourage new investment into the area, facilitating regeneration and providing new jobs for local people.'
Edward Heron, executive lead member for transport and environment strategy, said: 'I must commend the county council's project team and our contractor, BAM Nuttall Limited for ensuring this has been achieved despite several unforeseen challenges over the last two years.
'I am very pleased to be able to see first-hand, the end result of a plan that has been almost 10 years in the making, and over two years to build.
The scheme was jointly funded by the council, the Department for Transport and the Solent Local Enterprise Partnership (LEP), which provided £34m from the Local Growth Deal.
The council said the bypass represents the final part of spending of over £100m on road and transport improvements in the area, developed in partnership between the authority and the LEP in recent years.