New housing and commercial buildings and all new street lights could have charging points installed in them under an aspirational £450m government plan to boost ultra low emission vehicles.
Ministers have set out proposals for a 'major uplift' in electric vehicle charging infrastructure to encourage drivers to take up ultra-low emission vehicles.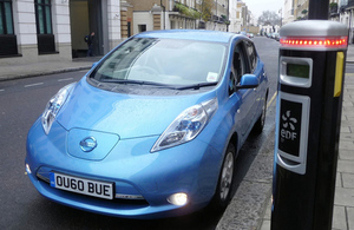 The Government's Road to Zero Strategy includes an 'ambition to see at least half of new cars to be (sic) ultra low emission by 2030' and the £400m Charging Infrastructure Investment Fund announced in the Autumn Budget.
The measures in the strategy on electric vehicle infrastructure include:
Making sure houses being built in England are electric vehicle ready by consulting 'as soon as possible' on introducing a requirement for chargepoint infrastructure for new dwellings where appropriate
Future-proofing the UK's streets by ensuring all new street lighting columns have charging points, where appropriately located, in areas with current on-street parking
Consulting on amending Building Regulations to also require charging facilities in new non-residential buildings like offices
Launching a £400m Charging Infrastructure Investment Fund to help accelerate the roll-out of charging infrastructure by providing funding to new and existing companies that produce and install charge points
Creating a new £40m programme to develop and trial innovative, low cost wireless and on-street charging technology
Increasing the grant level available through the Workplace Charging Scheme to 75% of the purchase and costs of a chargepoint, paving the way for more green transport infrastructure in businesses
Investing £4.5m in the On-street Residential Chargepoint Scheme until 2020, 'paving the way for thousands more chargepoints by offering funding to help meet the cost of local authorities installing the green kit for residents'.
The Department for Transport said that initiatives outlined in the strategy will pave the way for a significant expansion of on and off-street charging facilities, which could lead to hundreds of thousands more chargepoints around the country.
It said the strategy is 'technology neutral' and does not speculate on which technologies might help to deliver the Government's plan for a ban on the sale of new petrol and diesel vehicles by 2040 mission.
Officials said the Government sees a role for a 'broad range of technologies, including hybrids', as part of the strategy. Under current plans, new hybrid vehicles will still be able to be sold after 2040.
Transport secretary Chris Grayling said: 'The Road to Zero Strategy sets out a clear path for Britain to be a world leader in the zero emission revolution - ensuring that the UK has cleaner air, a better environment and a stronger economy.'
Labour's shadow transport secretary, Andy McDonald, said Britain is being 'held back from the transition towards electric vehicles'.
He said: 'At a time when the planet is threatened by climate change and air pollution contributes to 40,000 premature deaths each year, it is dangerous for the Government to row back on their commitments to clean up road transport. This isn't a Road to Zero, it's a road to nowhere.'
AA president Edmund King warned that the possibility that plug-in vehicle grants may be withdrawn by 2020 'risks stalling the take up of low emission vehicles'.