Chinese autonomous vehicle company WeRide is running a huge road test of its Robo Street Sweeper, the country's first mass-produced and purpose-built self-driving sweeper.
The trial involves a fleet of more than 50 of the electric vehicles on the streets of Nansha District, Guangzhou under a strategic collaboration with the Yutong Group.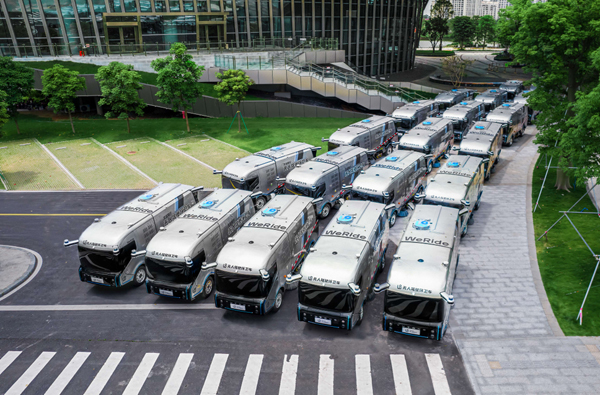 WeRide says the Robo Street Sweeper is its second mass production and purpose-built self-driving vehicle, following the launch of its Mini Robobus, and is the first of its kind in the sweeper industry.
Designed and produced for city-level environmental services, it features a cockpit-free design without a steering wheel, accelerator or brake pedals. WeRide says that it operates as a level 4 autonomous driving solution, which the firm says enables safe, fully driverless and all-day available operations.
Level 4 vehicles can operate without a driver in specific locations, such as within a city or a district thereof, although a driver either inside or outside the vehicle may have to take control again in certain circumstances.
While critics of self-driving technology have raised concerns about level 4 automation, WeRide emphasises its built-in redundancy element – meaning a backup system for safety critical elements that can take control if the primary system fails.
WeRide says that under the self-driving mode, the Robo Street Sweeper fleet can perform comprehensive environmental services, such as sweeping, sprinkling and disinfection spraying.
It adds that in the light of the COVID-19 situation, the vehicle is equipped with a spraying system to disinfect streetscapes with zero-contact.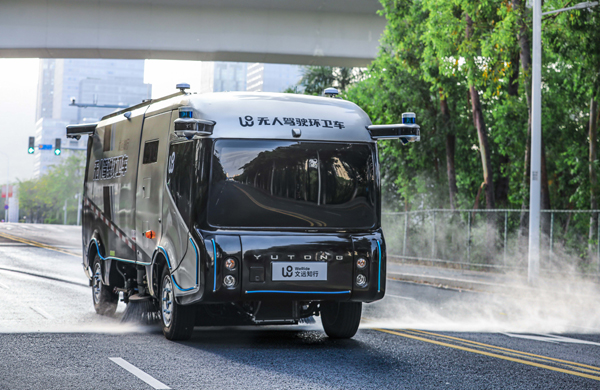 WeRide has also developed a custom-built, cloud-based platform to manage the Robo Street Sweeper fleet, which can act 'as the brain and command centre' for a smart city's environmental services.
The system provides real-time information of routes, operations and autonomous driving status and, according to WeRide, facilitates intelligent scheduling, automated activation, remote dispatching and route management, ensuring that daily operations, such as charging, water filling, waste discharge, vehicle activation and parking can take place without human intervention.
WeRide says it has combined flexibility with extensive multi-scenario operation experiences, 'joining hands with the Nanshan government' in co-creating what it says is the leading pilot application of autonomous driving in China.
The vehicles are being tested on technological and operational metrics through a road test plan that WeRide says is designed to address real-life scenarios of the Nansha District. Road tests are also being conducted into the early hours to acquire a fuller understanding of real-world conditions.
Nansha is a southern district of the city of Guangzhou capital of the province of Guangdong, formerly Canton. Sitting at the centre of the Greater Pearl River Delta Economic Region and close to Hong Kong and Macao, it is a hub of technological and economic development.
Wei Min, standing committee member of the Communist Party of China Guangzhou Nansha District Committee and executive head of the People's Government of Nansha District, Guangzhou, described Nansha as 'a pioneer' in supporting autonomous driving road tests and operations.
He said: 'WeRide Robo Street Sweepers' road test in Nansha will be one of the largest in history. WeRide, being the leader in autonomous driving in China, is well equipped with industry-leading expertise in technology development, product innovation and commercial operations.'
Tony Han, founder and CEO of WeRide, said: 'Under the accelerated urbanisation process, we observed a surge of needs on environmental services. Meanwhile, with the emergence of pandemics such as COVID-19, the demand for zero-contact environmental services has been raised.
'By developing the self-driving Robo Street Sweeper, WeRide offers a package of environmental services without human intervention, and can be deployed in cities in a safer, greener and more efficient manner. In case of a public health emergency, the fleet will be the first and the most trusted resource to serve the public with the safe and reliable autonomous driving technology.'
Rob Bailey, principal advisor for highways and transport at the Association for Public Service Excellence (APSE) told Highways: 'The Robo Street Sweeper appears to be a welcome development, allowing the vehicles to be deployed at any time of the day or night and free of any staffing issues that may create. Also, as fully electric, they are non-polluting and, one assumes, relatively quiet.'
Mr Bailey noted the need for more investment in road quality and road markings to fully support the move to autonomous vehicles, adding: 'The public will also need significant assurances about the safety aspects of the operations and ability to deal with on-street hazards and vulnerable residents such as those with visual impairments. Rigorous risk assessments will no doubt be demanded specifically by local councillors.'
He added: 'Autonomous sweepers will be with us in the future but we may have to wait another five years before they appear routinely on the UK's public highways.'