Local authorities are being urged to install concrete or steel barriers, rather than plastic alternatives, to aid social distancing in town and city centres.
Manufacturer and supplier Hardstaff Barriers has warned that councils should consider crash-tested steel or concrete barriers, rather than plastic versions, which it said are untested and less stable and provide 'no protection against traffic'.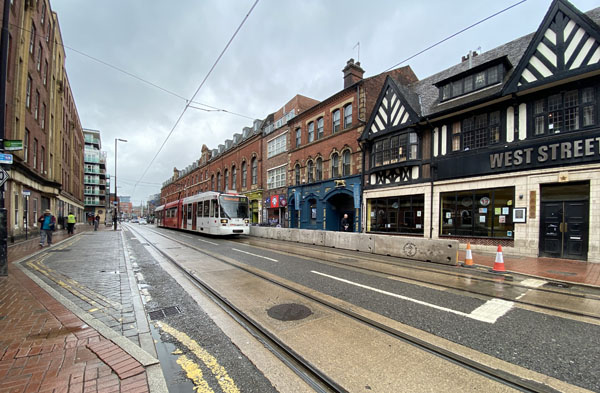 The firm pointed out that during the pandemic there has been a rise in the use of barriers in urban areas to aid social distancing, create cycle lanes, provide protection from roads and tram lines and create outdoor dining areas.
It argued that while plastic barriers have a place in some schemes, such as creating a clearly visible walkway or cordon, if they are not crash-tested 'they provide no protection to pedestrians or road users whatsoever'.
Executive director Dave Todd said: 'In the current climate, when the need to protect people is greater than ever before, and as the winter approaches, it is important that an approved concrete or steel barrier is selected to provide maximum protection for pedestrians, cyclists and other road users.'
Hardstaff said it has installed barriers in a number of town and city centre locations in the UK, with a recent project including the installation of temporary concrete and steel barriers in the centre of Sheffield.
The project was carried out on behalf of Amey, which operates the Streets Ahead Highways Maintenance and Management service across the city, for the city council.
In West Street (above) the safety barriers separate pedestrians from the road and tram line, providing protection from passing trams and vehicles, particularly during busy times.
The barriers, which are crash rated to EN1317, also allow pedestrians to socially distance safely without the risk of walking into the path of a vehicle.
Each weighing 2500kg, the crash-tested barriers cannot be moved without specialist equipment so they are safer and more robust than plastic barriers, Hardstaff said.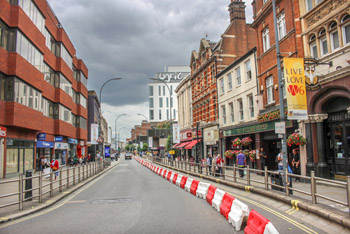 In July, the Centre for the Protection of National Infrastructure warned that queue-filled high streets created by social distancing measures could be a target for terrorists using a vehicle as a weapon.
Image right shows plastic barriers in Hammersmith, West London