Scottish ministers will this year commission research into demand management options to discourage car use, 'including pricing'.
The devolved government has published its route map outlining steps needed to reduce car kilometres travelled by 20% by 2030.
The document sets out a range of sustainable travel behaviours but officials said research will also be commissioned to explore equitable options for demand management to discourage car use, to enable the development of a new Framework for Car Demand Management by 2025.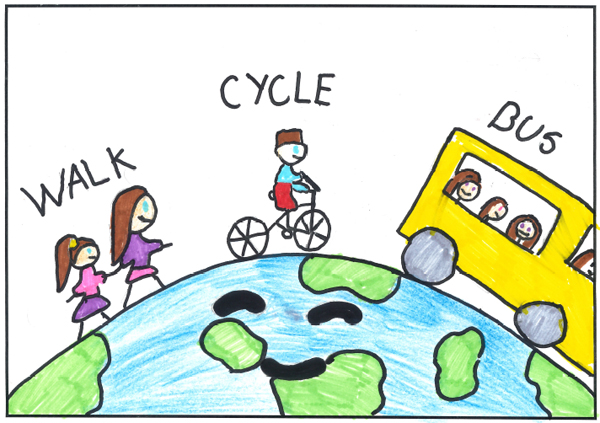 Cover picture by Sarah Tokou from St Mary's Primary School in Largs
Transport minster Graeme Dey said: 'We know that we need to take bold action to tackle the climate emergency and this world-leading commitment makes the scale of our ambition clear.
'We cannot reach net zero emissions through technological solutions alone so we need individuals, communities and businesses in all parts of Scotland to look at their own habits and behaviours and think about how they could make changes.
'We're setting out a whole range of actions, some in the short term – like free bus travel for under-22s, low emission zones and providing superfast broadband for 100% of premises – and some longer term, including our work on demand management options including pricing and the cost of motoring.'
Cllr Steven Heddle, environment and economy spokesperson, for local government body COSLA, which helped develop the document, said: 'The evidence which underpins the route map is clear: our current level of car use is unsustainable and incompatible with our climate targets. Put simply, if we do not make urgent, deep cuts in transport emissions in the next few years we will miss our national targets and the opportunity presented by COP26 for Scotland to show global leadership
'The purpose of the route map is to help us find fair and sustainable ways to reduce car use wherever possible, recognising that some car journeys will continue to be essential.'
The route map groups sustainable travel behaviours into four categories:
travel less: use online options where appropriate
stay local: chose a more local destination to meet your needs
switch mode: to walk, wheel, cycle, or use public transport where possible
combine a journey: where the other options are not feasible
However, it acknowledges that incentivising desirable behaviours is unlikely to be sufficient in a context where car use remains highly attractive in terms of individual-level benefits, while the dis-benefits to environmental and population health are largely externalised.
It states: 'Further exploration of equitable options for demand management to discourage car use, including pricing, will be explored through the commissioning of additional research in 2022.
'This will provide a short-list of options for further exploration and feasibility analysis, and will enable the development of a new Car Demand Management Framework by 2025, which will take into account the needs of people in rural areas and island communities as well as those on low incomes and people with Equality Act protected characteristics.'