Key bodies in the sector have backed the Commons Transport Committee's call for the local road network to be given the type of five-year funding settlement that the strategic road network benefits from.
The Civil Engineering Contractors Association (CECA) said the committee's recommendations are 'vital' for the survival of local roads.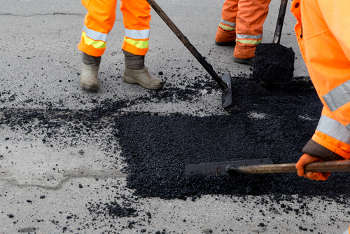 Its director of external affairs, Marie-Claude Hemming, said: CECA has long argued for greater investment in our local roads network, to bring these roads to the same standard as our strategic roads, and we welcome the publication of this report.
'A five-year settlement would bring local roads funding in line with the Highways England model, driving efficiencies, good practice and innovation to maintenance and giving industry the confidence to invest in their businesses to deliver this work.'
She added: 'Proactive maintenance provides better value for money than reactive maintenance. This recommendation has the potential to deliver real change to our local roads network.'
The Local Government Association's transport spokesman, Cllr Martin Tett, said the report had 'rightly' recognised the funding pressures on councils' and the detrimental impact this is having on services such as roads maintenance'.
He said: 'Councils need long-term government investment in the Spending Review in local road maintenance to address the nation's £9.3bn roads repair backlog.
'It is not right that the Government spends 43 times more per mile on maintaining our national roads – which make up just 3% of all roads – than on local roads, which are controlled by councils and make up 97% of England's road network.'
Cllr Tett said that while the one-off additional £420m in last year's Budget had helped, councils needed the Government to follow with a long-term funding plan.
The country's main motoring organisations also backed the report.
Jack Cousens, head of roads policy for the AA said that while potholes can be a 'very costly inconvenience' for drivers, 'they can be tragically fatal for cyclists and motorcyclists'.
He said: 'The only way councils will get on top of the conditions of local roads is with the help of a large scale and continuous funding project.
'Currently it would take a decade to get our local roads back to where they should be, so a fully funded five-year project would go a long way towards smoothing out our streets.'
The RAC's head of roads policy, Nicholas Lyes, said the report 'recognises the means of funding roads under council control is as broken as many local roads are themselves, and that a new approach is badly needed'.
He added: 'While it is good that major roads are seeing significant levels of investment, the same can't be said for all the others and surely, in 2019 it shouldn't be the case that a driver can switch from a major A-road to a minor road and see an immediate degradation in surface quality.
'It's high time local roads were recognised for what they are – a significant piece of national infrastructure that serves a vitally important role in terms of connecting communities and linking people to their workplaces, which ultimately helps drive the economy.'