Leading barrier company Highway Care has advised industry on how to protect worksites in the event of temporary or partial closure.
There are a number of temporary security barrier solutions that protect against all types of vehicle incursion, perimeter security, access control and traffic control.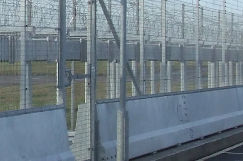 A Secure Guard steel barrier and fence can create a full, access perimeter solution with 1.2m of height protection, which protects against vehicle incursion.
For sites that don't require hostile vehicle mitigation, concrete barriers such as the SecureGuard CB or HC350, can act as easily deployed alternative.
Highway may also have concerns about reduced staffing levels.
The Instaboom vehicle incursion gate provides the security needed for work sites by removing the need for site security personnel through a key code, a fob or an intercom, to allow approved people through.
The Instaboom is solar-powered, needing a quick charge every couple of weeks via a site generator.
'At a time like this, when there is a need for as little operational staff on the ground as possible, the Instaboom vehicle incursion gate will do the job of keeping a highway worksite secure,' Highway Care said.
There is also an option with the Instaboom for a GS6 Boom, which is well suited for sites near bridges.
The GS6 Boom works by detecting an obstacle up to 6m away at the set height and triggering a closure, securing the lane from an overhead strike.
Highway Care will be operating video call options throughout the coronavirus crisis.