Grant Shapps has confirmed that National Highways will not provide emergency refuge areas (ERAs) on smart motorways at the minimum spacing recommended by MPs, despite his department stating that it agreed with their recommendation.
Instead, the government-owned company will use a wider definition of places to stop, although Mr Shapps contradicted an assertion from National Highways that slip roads count towards the minimum spacing.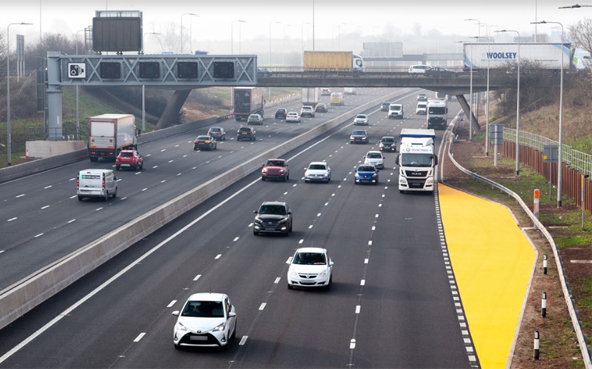 The transport secretary has written to Huw Merriman MP, chair of the Transport Select Committee, in response to a request to clarify what definition was being used for the spacing standard.
During Mr Shapps' appearance before the committee in April Mr Merriman said: 'The commitment was there would be a maximum of one mile for emergency refuge areas, but it appears that National Highways may include within the definition of emergency refuge areas, not just what we consider, but also slip roads and service stations.'
In his letter to Mr Merriman, the transport secretary confirmed that National Highways would apply the wider definition of place of relative safety (PRS) set out in its GD 301 design standard.
That document notes that what National Highways calls 'emergency areas' are called an 'emergency refuge area' in law and Mr Shapps noted that these have always been a sub-set of the wider concept of 'refuge area', now known as a PRS.

The transport secretary also noted that the GD 301 definition of PRS also includes existing hard shoulder between junctions and new or existing sections of hard shoulder on slip roads. As the name suggests, other types of PRS are not considered as safe as ERAs and Mr Shapps' 2020 smart motorway stocktake explicitly states that ERA's are 'safer places to stop than a hard shoulder'.
However, the committee's report last year specifically used the term emergency refuge areas, recommending that the Department for Transport (DfT) and National Highways should retrofit them to existing all-lane running motorways to make them a maximum of 1,500 metres (approximately a mile) apart, and every 1,000 metres (0.75 miles) where possible. In response, the DfT said it 'agrees in principle with this recommendation'.

It also incorrectly described the new standard as relating to emergency areas, rather than PRS.
When its latest smart motorway scheme – on the M27 – opened in February National Highways told Highways that the spacing standard 'refers to places to stop in an emergency [and] could be an EA, slip road, service station etc'.
However, a slip road without a hard shoulder or refuge area does not count as a PRS.