The Welsh Government has announced nearly £17m in transport grants, with £5m of the cash to be spent on repairing damage from storms earlier this year.
Officials said the Resilient Roads Fund of £16.9m will support 18 schemes across 13 local authorities, and will be spent on schemes to mitigate and adapt to the effects of climate change, including addressing disruptions caused on the highway network by the severe weather.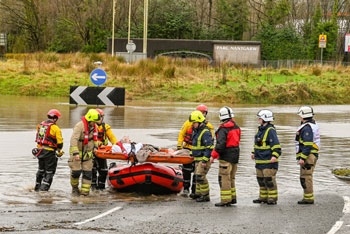 Ken Skates, minister for economy, transport and North Wales, said: 'This fund will help local authorities pay for much needed work. This includes over £6m to construct a further section of the Old Colwyn coastal defence scheme, which will protect the highway and active travel route from adverse weather.
'We are investing £2.5m in Mid and South West Wales, including £400,000 to develop a long-term sustainable solution in Pembrokeshire to the A487 at Newgale.
'Over £4.9m will be spent on work to repair and future-proof key transport routes across Caerphilly and Rhondda Cynon Taf where local communities were particularly affected by the storms earlier this year.'
Mr Skates added: 'The grants are a substantial investment to support long-term sustainable economic growth and recovery from the effects of the storms, enhance public transport facilities, and improve routes that will encourage more people in Wales to walk and cycle.'
All local authorities were invited to submit applications for funding and 21 applications were received from 13 local authorities.
Details of the grants awarded to each local authority are available here.