Staffordshire County Council has invested in nine new spreaders as the coldest weather of the season is predicted to be just around the corner.
Amid warnings of a return of the Beast from the East this month, the county council announced it had added nine new Stratos III spreaders from Aebi Schmidt.
Staffordshire operates a fleet of 39 spreaders to meet its statutory requirements to keep the council's highways and byways free of snow and ice across its territory of around 1,000 square miles.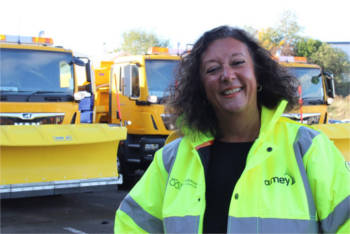 The council went to tender through the Procurement Partnership (TPPL) framework agreement using a number of criteria – including price, support, warranty, back-up, and lead time - after nine of its fleet reached the end of their 10-year working lives.
The winning bid was the Stratos III spreader, twinned with an 18-ton MAN chassis. The deal included the provision of a two-year warranty for both the equipment and the vehicles, which was a key factor in securing the contract council officers said.
Cllr Helen Fisher (pictured right with the spreaders), highways chief at Staffordshire County Council, said: 'The new vehicles are all fitted with the latest safety and satellite technology to help make sure that drivers can get around safely and that roads get exactly the right amount of grit.'
The new spreaders have been shared between Staffordshire's four main winter depots at Gailey, Lichfield, Leek and Stafford.
The vehicles have also been specified with VPZ snow ploughs, brine tanks and Schmidt's highly claimed automated spreading system, AutoLogic, which uses GPS to guide the truck and help maximise spreading efficiency.