Chancellor Rishi Sunak will pledge an extra £2.5bn for road maintenance in the Budget, in the absence of a National Infrastructure Strategy.
The cash will mean councils will get an extra £500m a year over five years.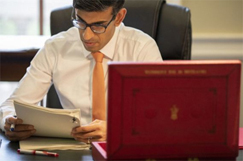 The Conservative manifesto for December's election pledged: 'We will launch the biggest ever pothole-filling programme as part of our National Infrastructure Strategy – and our major investment in roads will ensure new potholes are much less likely to appear in the future.'
Costings published alongside the manifesto put this at £500m a year for four years.
However, as Transport Network has reported, the National Infrastructure Strategy itself has been delayed, although Mr Sunak is also expected to claim record infrastructure spending of £600m over five years, most of which has already been announced.
Mr Sunak said: 'We can't level up Britain and spread opportunity if we are spending our journeys dodging potholes and forking out for the damage they cause. It's vital we keep roads in good condition.'
'That's why we are going to eradicate the scourge of potholes in every part of the country. This funding will fill millions of potholes every year - speeding up journeys, reducing vehicle damage and making our roads safer.'
The Treasury said the cash will 'fix up to 50 million potholes 'but will also be available for local authorities to undertake longer-term road resurfacing works to prevent potholes from appearing in the first place'.
Officials added that the cash will particularly benefit regions who have more streets to look after than other areas, like the South West, the East of England, and the North West and that authorities will be able to target places based on local need, 'meaning that areas with more bumps in the road can be fixed first'.
Earlier this month The Department for transport (DfT) revealed which councils will receive a share of the latest £93m round of Local Highways Maintenance Challenge Fund cash, which enables local highway authorities in England (excluding London) to bid for major maintenance projects that are otherwise difficult to fund through the usual formula funding allocations they receive from government.
However, it is not expected that the 2020-2025 Road Investment Strategy for the strategic road network will be published alongside the Budget.