Transport for London (TfL) is to carry out essential maintenance to the A40 Westway between the A40 Northern Roundabout and the Marylebone Road but a second phase of works is currently unfunded.
Work between the Northern Roundabout and the Marylebone Road will take place on weekends from this weekend through to next summer.
TfL said the Westway is one of the busiest strategic routes on its road network and is normally used by nearly 100,000 vehicles a day.
It described the work as 'the first and most urgent of a range of works required on the flyover'. Some of the flyover's joints, which span the gaps between the concrete sections of the structure, will be replaced while the bridge deck will also be waterproofed to help protect the structure.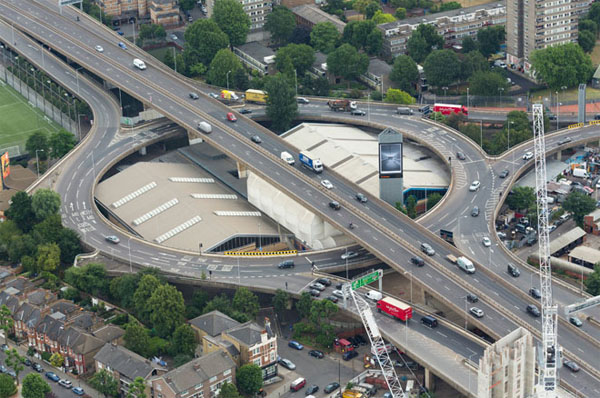 The Northern Roundabout includes the stubs for unbuilt slip roads to the north
Contractor Costain will be using the hydro-demolition method of concrete removal, a low-vibration technique that uses a high-pressure water jet to break down the concrete.
Nick Fairholme, director of projects and programmes at TfL Surface said: 'The A40 is a key artery in west London and it's vital that we ensure it is well maintained for the tens of thousands of people who use it each day.
'This essential work will replace an operationally critical roller shutter expansion joint and allow the flyover to continue to be used safely.
'Further work will be necessary given the age of the infrastructure, which we plan to carry out subject to the relevant funding.'
Phase 2 will involve the replacement of 10 tooth/comb joints, protecting parapets at high risk locations, and targeted resurfacing and concrete repairs.
TfL said the timings of any future phases of work to the flyover will depend on its ongoing discussions with the Government for long-term sustained investment in London, 'which is required to avoid a Managed Decline scenario'.
On Wednesday the transport authority published a new assessment of its funding options, which warned that it may not even have enough cash to fund the managed decline of its infrastructure.
The paper states: 'We have designed the Managed Decline scenario to ensure the network remains as safe as it is today and consistent with our regulatory responsibilities, but operability and reliability would be compromised. Asset closures and restrictions would be likely on our road network (with a high risk of unplanned bridge and tunnel closures).'
It notes that to close its funding gap completely TfL would have to drop below Managed Decline, 'with these impacts currently being investigated further so we can effectively understand and manage the asset risk from this level of renewals'.