Transport for London (TfL) has been given a court date for its appeal against a High Court ruling that its streetspace plans were unlawful.
After successfully applying for the right to appeal, the transport authority was given the date of the 15 June for the start of proceedings.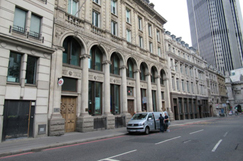 In January, the High Court ruled that the mayor and TfL had acted unlawfully in their treatment of licensed taxis under the streetspace programme, which had seen several roads blocked to through-traffic in a bid to encourage active travel and public transport use.
The judgement resulted from a judicial review mounted by the London taxi trade, concerning a specific Streetspace scheme, the A10 Bishopsgate Corridor in the City of London (pictured above), which removed taxi access to a key arterial route.
Following the leave to appeal, a TfL spokeperson said: 'We are aware of the decision to grant the appeal and are now progressing with preparing for our appeal. I'm afraid we can't comment further due to the pre-election period [for the London mayoralty].'
Harrow
Harrow Council's cabinet has decided to remove two of three Transport for London (TfL) Streetspace schemes designed to support people to socially distance and encourage active travel during lockdown.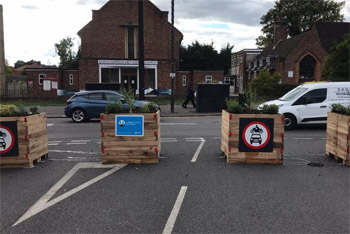 The low traffic neighbourhoods (LTNs -pictured) and cycles lanes will be removed from Harrow following recommendations from the Traffic and Road Safety Advisory Panel.
However, the school streets trial, which involved reducing traffic on four school streets, will be extended for six months.
An LTN is a scheme where vehicle traffic in residential streets is greatly reduced.
'It is clear from the statutory consultation undertaken over the past six months that there is little support for the cycle lanes and low traffic neighbourhoods implemented as part of the national initiative,' said leader of Harrow Council Graham Henson.
'And so, the decision to remove these experimental schemes is the right one for Harrow - we will keep residents informed about when this will take place.'
Cllr Henson continued: 'We have listened to and understand residents' concerns about how the schemes were implemented. Going forward the council will do things differently – engaging with our residents to shape projects before they are implemented.
'We have some difficult decisions ahead of us to make our streets safer for all road users and reach our Climate Emergency pledge to lower emissions in the borough and be carbon neutral by 2030 but we will approach this challenge together in partnership with our residents.'