Transport for London (TfL) has awarded Siemens Mobility a 10-year contract worth tens of millions of pounds to upgrade the capital's road network management and 'future proof' its SCOOT system.
It said a new Real Time Optimiser (RTO) system will revolutionise the 30-year-old Urban Traffic Control (UTC) system in London, which currently operates on 'outdated technology', and help it make much better use of the road space.
In addition, when the road network is disrupted by an unplanned incident, planned work or events, TfL's control centre will have a more sophisticated tool to help return the road network back to normal as quickly as possible.
London's network of SCOOT-controlled traffic lights uses sensors to detect traffic and adjust signal timings to manage queues and give late-running buses priority. TfL said it is introducing new sensors to balance signal timings for cyclists and pedestrians but the current system is 'struggling to optimise effectively for everyone'.
It said the RTO technology will take in a range of new data sources, connect to new types of sensors and support innovation, including sharing data with connected vehicles and possibly autonomous vehicles. Data generated by the system can then be used to better inform road users of current or expected road conditions.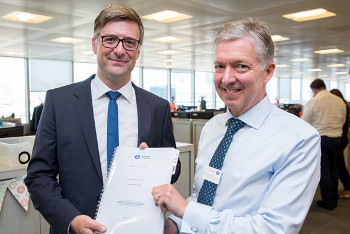 Glynn Barton, TfL's director of network management, said: 'This world-leading new traffic management system will be a game-changer for us in London. It will use new data sources to better manage our road network, tackle congestion, reduce delay for people choosing healthier travel options and improve air quality. And by providing our control centre with a tool which supports more effective incident response, everyone will benefit.'
Wilke Reints, managing director at Siemens ITS, said: 'This is a major development for London and its road users and for the traffic industry as a whole.
'Given TfL's clear focus on delivering the safest and most efficient traffic network for all road users, we believe this is a unique opportunity to build a robust, reliable system that will meet the needs of one of the world's largest cities. Once RTO is successfully introduced, London will be a showcase for intelligent traffic solutions for megacities worldwide.'
TfL said the RTO contract allows for ongoing development of the system throughout the partnership to maximise its potential benefits and ensure a market-leading product. The system will be made commercially available to other organisations, with TfL benefiting from future revenues. All TfL revenue from sales of the RTO system will be re-invested into London's road network.
It said the new system will deliver £1bn of benefits by 2036 through reducing delays for all road users.
A spokesperson told Highways that the value of the initial contract is £19m, which covers the design, development and implementation of the new RTO system, plus support and maintenance services until March 2028.
However, this could increase 'significantly' due to the structure of the contract allowing for further development of the RTO system and extensions to the initial term.
This programme will be delivered in three phases. Under phase one Siemens will develop a new, cloud-hosted traffic control solution, replacing the existing UTC system with a new RTO solution. This development phase will be completed in collaboration with TfL's service delivery team.
The RTO development work will build on the core functionality of the current system, and add a number of new features, with the system enabling traffic control to be migrated into the future-proof, cloud environment during 2020.
Phase two will run in parallel with the RTO development work and will see all new adaptive control algorithms being developed (currently referred to as 'Future SCOOT'). This phase will be delivered in stages, starting in 2021.
In phase three of the project, which starts when the system first goes live in 2020, Siemens will be responsible for maintaining the system throughout the rest of the contract term (2028).
Picture shows London's Transport Commissioner, Mike Brown MVO, and Wilke Reints with the contract.