The sub-national transport body (STB) for the South East has launched a 30-year strategy document that warns indulging continued traffic growth is 'no longer sustainable'.
Transport for the South East (TfSE), a partnership of local authorities, business groups and transport bodies has published its draft transport strategy for consultation.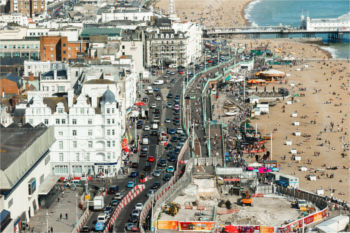 TfSE said that reducing the region's reliance on private cars – which account for 70% of all journeys compared to just 4% by rail and 5% by bus – is vitally important 'as the strategy is clear that catering for forecast road traffic growth in the South East is no longer sustainable in the long term'.
It outlines framework for investment, alongside policy changes and other initiatives that aim to make sustainable travel easier and more attractive.
These include a real-terms freeze on rail fares, cheaper off-peak fares and extra funding to protect and enhance rural bus services. The strategy also calls for 'demand management policies to improve the resilience of the region's busiest roads and motorways'.
According to the document, with the right investment in its transport network, the South East's economy will more than double over the next 30 years – from £183bn to between £450bn and £500bn per year – 'creating an additional 500,000 jobs'.
TfSE chair Cllr Keith Glazier said: 'Balancing the needs of the economy and the environment is the single biggest challenge we face. But, if we get it right, the prize is huge.'
Transport minister George Freeman MP, who attended a launch event, said the strategy 'signifies a new and exciting chapter in the region's history'.
Specific priority schemes for the region for future investment include:
Increasing capacity and resilience on the busiest radial railways, particularly the Brighton Main Line and South West Main Line
Speeding up rail journey times to London, particularly by using spare capacity on High Speed 1 and investing in extending Crossrail to Ebbsfleet to support new housing growth
Improving road and rail links to deprived communities, particularly in coastal areas of East Sussex and Kent
A new Lower Thames Crossing connecting Kent and Essex
Improved links between the M3 and M4, ideally avoiding urban areas such as Bracknell
Improve public transport access to Heathrow through delivering the Western and Southern rail access schemes
Wider priority initiatives and policies include:
Considering use of demand management policies to improving the resilience of the region's busiest roads and motorways
Better public transport alternatives on the M25 corridor
Better east-west rail connectivity across the South East, supported by wider electrification of the rail network and/or wider use of bi-mode trains
Building consensus on how best to improve journey times and connectivity for road and rail along the South Coast
Developing high-quality public transport services on urban corridors, such as Bus Rapid Transit and Light Rail Transit, where there is a viable business case
Improving air quality in urban areas by lowering speed limits, reallocating road space to cleaner transport modes and supporting uptake of electric vehicles
Improve road and rail links to support port expansion
Prioritising the needs of cyclists and pedestrians over the private car in urban areas.
Developing integrated transport hubs (bus, rail, park and ride, new mobility and cycle parking), integrated 'smart ticketing' and integrated timetables where feasible
Lobbying government to protect and enhance socially necessary bus services in rural areas
Lobbying government to freeze rail fares in real terms and provide lower off-peak fares in the longer term
An online consultation will take place for the next 12 weeks, alongside a series of roadshow events across the region from 16-24 October.
TfSE is not a statutory body and does not have powers to dictate transport policy however STBs have become an important element to shaping national transport with key influence that is likely to grow over time.