Necessity and great invention often go hand in hand. Peter Baynham (pictured), Atkins UK's head of strategic highways, talks to Dominic Browne about remembering the lessons of the last few months and the positive changes for business.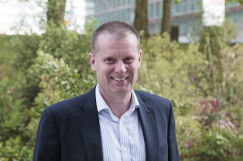 How many people are in your team and how have you been working together over the last few months?
Our highways team is about 700 staff across the UK and in our global design centre in India. We have had internal and external meetings using video conferencing. We do not see a huge difference between the virtual meetings and face to face, to be honest.
How has Atkins dealt with the lockdown and remote working?
We have made a significant investment in digital tools in recent years, so it was surprisingly easy to work from home. We have moved to digital design systems in highways, and COVID has accelerated us on that journey. I think we are ready to come out of lockdown but let's not forget the lessons we have learned around how we can make ourselves more productive.
Can you give an example of where the highways business might change?
For instance, in planning consent this is a chance for us to look at how we go through the regulatory procedure without face to face meetings – we have had to do this. It's really important we don't stop progress on schemes. There is a lot of legacy regulation and procedure in our sector and what COVID has given us is the opportunity to look at doing things differently. Why can we not engage remotely? There are other ways of engaging the community than face to face meetings.
How has working from home changed your view of offices?
We all need to reduce our travel. We need to look at the footprint of offices around the country but also recognise the need to build effective teams. That is something we need to look at as we move towards more virtual working. How do we support people and help them be part of an integrated successful team?
We all have city centre offices. These may become more like hubs where we meet. The role of the office could change. It might be used differently. Workers get a better life balance without the commute. If anything, it's been more efficient. Atkins is looking at how we use city centre offices in the future. They are expensive. I know of several other companies that are looking at what offices should be in the future. But there are no decisions yet.
If we move away from offices, does this mean the workforce will go much more international?
I have worked at companies that had global design teams, but there are problems with how the teams integrate. Atkins has been in India for 15 years, and it takes some time to build up teams in another country. We need to be careful and we need to go where we can attract top talent particularly as we move into the digital world because we are looking at a different set of skills.
What about procurement processes throughout lockdown?
We have tendered for work and submitted bids. We have notched up some successes. We are working and mobilising teams for projects for Highways England, which has kept things moving forward. We continue to see government clients tendering for work.
What about contract disputes?
If you are going to be delayed, you should go through an early warning system to give the client notice. That's not just Tier One, that's something that is supposed to flow right down.
How might things change for the supply chain?
The supply chain needs to come together and work to help each other survive. That means all clients making sure things aren't delayed, especially payments. That has to be a priority. We have seen prompt payment during the crisis, and we don't want to lose what we learned.
Supply chains take a long time to build, and they can be quite fragile if work doesn't come through. It's important to keep the bidding and tenders going.
One thing we have seen so far, which has been good, is sector-wide collaboration. We have been sharing ideas across companies. No one has a monopoly on good ideas, and that has been very helpful.
Will it change the way we shape contracts and contractual relationships?
There are new contract models being worked and in place already. Look at the Regional Delivery Partnerships - the client, contractor and designer very much as an integrated team with a technical adviser, all trying to achieve the same goal. That is a new way of working that is changing the way everyone works, and if we can make that work, it's positive for everyone.
Do you think the highways sector is in a good place?
We are in a much better place than a lot of other sectors. There are really tough challenges out there. I am pleased I am in this sector at the moment.