Jones Bros has completed a major highways scheme that promises better connectivity to Wigan's town centre.
The civil engineering firm built the A49 link road on behalf of Wigan Council.
The project, whose ribbon was cut by Wigan Council leader David Molyneux, will help join the area with the M6 and aims to provide better east-west connectivity for residents and commuters and ease congestion along current routes.
Jones Bros constructed a new highway and four bridges. It says it invested £2m into the local economy during construction by working with borough-based suppliers and companies for materials, security support and drilling works on-site.
Three apprentices from Wigan were recruited and will be kept on by the company.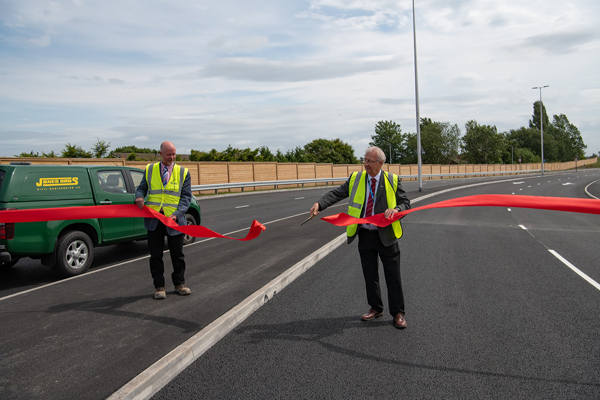 John Dielhof and David Molyneux combine to cut the ribbon
Managing director John Dielhof said: 'We are pleased our first major project for Wigan Council has been such a success.
'As well as delivering infrastructure that will benefit local people and visitors to the area, we are confident our work in the community will provide a lasting legacy. We would also like to take this opportunity to thank commuters for their patience during the works.
'The on-site team have overcome a number of challenges throughout the scheme and it's testament to their positive attitude and capabilities that this much-needed link road has been completed on budget and on schedule.'
According to the council's website, the road was due to be completed 'in spring 2020'.
Cllr Molyneux said: 'The A49 project is a key part of our wider plans for better connectivity across the borough, helping to generate economic growth.
'Since Jones Bros started on-site in late 2018, they have been committed and professional, working hard during testing times to ensure the project can be completed.'
The scheme received funding from the Greater Manchester Combined Authority's Growth Deal pot, which is managed by Transport for Greater Manchester.