The Commons Transport Committee has called for a nationwide ban on pavement parking, highlighting the impact on people with visual and mobility impairments. Clive Wood (pictured), policy and campaigns manager at Guide Dogs, tells Highways first-hand about his commute, with and without guide dog Winnie (also pictured), and the streetscape features that help and hinder his journey.
I start my working day with the regular walk from home to the train station. A journey of about 15 minutes.
There is a shorter way but there are parts of that route with no footpath. Pavements are so important in allowing me to have independent safe mobility and feel reassured as I am less likely to encounter vehicles.
I leave my home, usually accompanied by Winnie, my guide dog. We are both very familiar with the route although this doesn't discount coming across some unexpected challenges. One good example is vehicles parked on the pavement.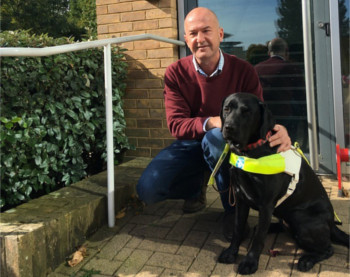 Walking to the end of my road I come to a controlled crossing, which I use to cross a busy road. Having the tactile surface across the path helps me find the crossing point. The audible signal on the crossing gives me the cue to cross.
When reaching the opposite side of the road I immediately take a right turn and begin a walk up to the next junction. This pavement does have several signposts along its length, some of which are in the centre of the path. These signposts are not laid consistently along the pavement.
Winnie guides me through the obstacle course of posts, although when I use my white cane instead it's not so easy. There are a couple of side roads off this road that have no kerb for me to identify these junctions.
More times than not, Winnie will stop at these junctions although it is not so easy with my cane. At the top of the road I reach a busy junction with traffic coming from several directions. I use two controlled crossings to navigate this junction. There's no audible signal on either crossing but the rotating cones on the control boxes do tell me when it's safe to cross.
Up the hill from here takes me to the next busy road crossing. Before reaching this point there are another couple of side roads to cross, which do not have a kerb or tactile surface to help me identify them. I reach the top of the road and a tactile surface, which runs across the whole footpath, lets me know that I'm at the safest point to cross this busy road.
This is an uncontrolled crossing so it's a matter of listening out for a break in the traffic, to allow me to cross safely or an offer of help from a kind person passing by.
Over to the island and across the second part of this busy road. The final leg of my journey to the station does include a shared footpath for pedestrians and cyclists – probably one of the more nerve-racking parts of this journey for me.
There's no tactile marking on the path to let me know if I am safely away from the cycle side of the path. As I approach the station, I cross an open space, which has no distinctive cues or clues to help me keep on the right line to the station entrance. A tactile guiding surface would be great, particularly when I'm using my cane and not Winnie.
To sum up, for me, the key elements to safe independent mobility are; consistency in the layout of the routes – i.e. signposts and street furniture – clutter-free routes along pavements, traditional kerbs, safe road crossing points and correctly placed tactile surfaces