Kelly Tolhurst MP has left the Department for Transport (DfT) for the communities department MHCLG and will be replaced by Robert Courts (pictured).
Ms Tolhurst was only made a transport minister in the reshuffle this February.
Her replacement as transport minister, Mr Courts, now has responsibility for aviation, maritime, security and civil contingencies.
Mr Courts is MP for David Cameron's old constituency Witney and West Oxfordshire and was elected in 2016 after the former prime minister stepped down.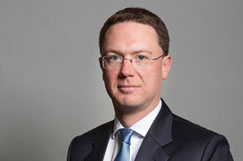 He founded the All-Party Parliamentary Group for Community Transport and has written before about his hopes that new on-demand Mobility as a Service will strengthen local community networks not diminish them.
'Key to sharing the benefits of modernisation to all forms of transport is ensuring that community transport services are fully integrated within the network. The growth of multi-modal journey planner initiatives such as Mobility as a Service, which give passengers greater knowledge and control over their journeys, illustrates that we need to ensure that community transport forms part of an integrated transport network.
'This would open community transport services up to a new set of passengers who might have never considered it, making the entire sector sustainable and broadening horizons.'
Mr Courts has previously served as a PPS in the Foreign and Commonwealth Office from January to July 2018 and to the secretary of state for the Environment from August 2019 until February 2020.
He is also a former barrister and self-described 'accomplished blues guitarist', given the pressures of his current brief right now Transport Network hopes he will not find himself singing it as well.