An announcement about two innovative open source safety solutions for roadworks zones on dual carriageways will launch a new feature of Traffex 2019 – live news conferences from the exhibition floor at Europe's biggest highways and transport technology show this year.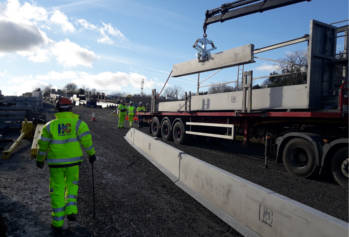 Highway safety and mobile traffic product supplier Highway Care will speak in the Trading Floor Theatre at 9.35 on Tuesday 2 April about its solutions to keep workers safe behind barriers and remind drivers to keep a safe distance from the vehicle in front, including a very innovative use of VMS.
The announcement is one of several lined up to be made during the three day event, where the breaking news alerts are generally presented while other theatres are taking a break, in order to maximise the opportunity to hear them first hand.
The full list of announcements lined up so far are:
Tuesday:
9.35 am: Highway Care – Launch of two new open source safety products in roadworks
11.20 am: Aimsun – New modelling project with major city
1.05 pm: WJ Group – Launch of Weatherline Plus 5, a new durable road marking with several features and benefits including an expected life in excess of 5 Years
1.35 pm: PTV Group – New modelling project to study the effect of Electric Vehicles on the Grid and a partnership with a major car manufacturer
Wednesday:
9.35 am: Jenoptik – Major announcement about its new camera range
11.20 am: Redflex – Launch of Halo Edge, its latest solution to improving air quality and combatting climate change through delivery of Clean Air / Low Emission Zones.
1.05 pm: ITS (UK) – Partnership with a national radio station to promote the Highways and Transport Technology to children
Thursday:
11.10 am: ITS (UK) – Launch of its new A-F scale for Connected Vehicles
Traffex Event Director Adrian Tatum said, 'We are always striving to offer extra value to our exhibitors and the Trading Floor news alerts will allow them to add an extra dimension to their promotion at Traffex 2019.
'To hear first hand some big news stories will really add to the buzz around the exhibition floor. For those who are tied up in networking at the time, we're pleased to say that we'll be filming these announcements and making them available as soon as possible on our website, adding even more value for those taking part.'
The Trading Floor also features a range of exhibitors making 20-minute presentations about their innovations on display at Traffex. For the full programme and descriptions, click here.
Other exhibitors wishing to make an announcement during the event may be able to book on of a very few remaining slots and should contact the event organisers.
Picture shows Highway Care's HC350 concrete barrier.