The long-awaited revised Chapter 8 Part 3 of the Traffic Signs Manual has been published.
The document has been through a somewhat tortuous journey, with earlier drafts creating controversy in the sector over a number of issues including what some saw as out of date guidance.
The revised Part 3 of Chapter 8 contains requirements and advice for those designing temporary traffic management.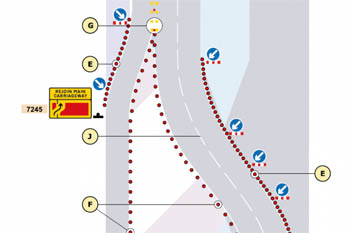 The Department for Transport said the revision includes changes, based on feedback from industry, 'to clarify the design requirements to maintain safety for both road workers and road users and also to expand on the recommended specifications for signs and equipment'.
It also updates the guidance on speed limits, diversions, sign clutter and length and spacings to reflect current national best practice.
Highways England highlighted the following changes:
Revised advice on how to best use the extra flexibilities introduced in TSRGD 2016, based on feedback from industry
Updated plans and design advice on how to integrate new sign designs into road works
Updated sections on requirements and advice relating to diversions, speed limits, length and spacing of road works and clutter to maintain the balance between road user requirements and flexibility for contractors
Updated guidance on improving the skills and competence of designers.
The format of the document has been updated to meet that used in the rest of the Traffic Signs Manual, including recreation of the artwork for extra clarity.