Highways England has extended its trial deployment of traffic officers on the A30 in Cornwall to cover this month's two bank holidays, as estimates suggest that around 8 million leisure trips by car are planned this weekend.
As part of a trial initiative announced last month, traffic officers patrolled for the first time in Cornwall over the Easter bank holiday weekend, with further trial patrols due to continue during the busy summer months.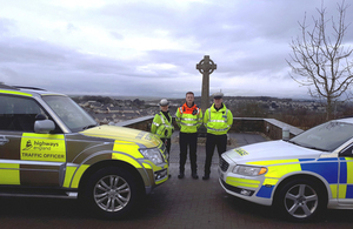 The government-owned company said that due to the initial success over the Easter period, it has now extended the trial to cover the two bank holiday weekends in May.
South West service delivery manager Rob Penney said: 'The aim of the initiative is to provide further assistance to motorists on our South West network, and we're delighted to extend our service further south into Cornwall and to continue our close working partnership with Devon and Cornwall Police and Cornwall Council.
'The Easter patrols provided real value and were well received, both by our partners and the public, and we dealt with and assisted 16 incidents over the five days.
'On that basis, we have added the May patrols to the trial and although we were originally only focusing the initiative on the busier summer holiday months, we are confident that these extra patrols will help our customers and partner agencies during a busy travel weekend.'
Highways England already works in partnership with Devon and Cornwall Police, forming part of a multi-agency partnership in terms of safety and severe weather handling, and the trial is aimed at providing further support to Devon and Cornwall Police to help meet the demands of increased traffic volumes and related incidents on the A30 in Cornwall.
The traffic officers will patrol the A30 between Carland Cross and Lifton Down and, based at Bodmin police station and Cornwall Council's Castle Canyke depot during the peak holiday months, they will be closer at hand to provide assistance along the A30 and A38.
The RAC said that drivers keen to make a dash on Friday (4 May) will be hoping that the 'fourth will be with them' as regular commuter traffic vies for space on the nation's congested roads. Its research suggests that around 2.9m trips are planned on Friday, with the majority of these likely to be condensed into the afternoon and into the evening rush hour.
Saturday is likely to be the next busiest day, with around 2.5m leisure trips scheduled, followed by bank holiday Monday itself with 1.9m. The RAC said that coastal regions, and the major roads that lead to them, are likely to see some of the largest increases in traffic.