Dominic Browne caught up with Hugh Gillies, director of trunk roads and bus operations at Transport Scotland, for a Q and A about the recent extreme weather seen north of the border and how the devolved nation fared when it came up against the Beast from the East.
What lessons have you learned from the Beast from the East?
Reflecting back on the winter weather, one thing I would highlight is the collaboration across the industry, without which we would have been in a poorer place. I would certainly reflect on the fact that working, planning and delivering together have made the difference.
And how will this collaboration be developed for the future?
After a big event like this clearly we need to sit down and reflect on what the experience was, what the lessons learned need to be, whether there are areas where we need to think about putting in more innovation and resources.
What type of innovation would this be?
We would have to look around the world to see if there were better pieces of resource equipment that could be deployed that could better deal with some of the issues we saw. Clearly we saw some issues for rear wheel drive vehicles and HGVs struggling to get traction on inclines. That's something we need to look at.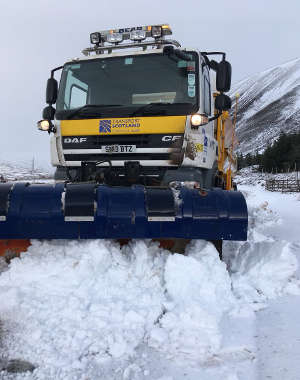 Do you have a map of where these trickier locations are so you can target them better?
We do know where some of the vulnerable locations are. In those cases we would look to pre-deploy resource such as heavy recovery vehicles. What was interesting about the weather event was the wind direction and type of snow caused different problems. We saw substantial drifting in locations we had not seen before, so we needed to innovate in real-time in how to tackle areas that had previously been a challenge for us. So we need to go back and look at those areas, and think about how we tackle them in the future.
Overall how would you assess the response?
I am generally pleased with our response. You would like to keep your network clear at all times but it is not always possible to do that because it was quite an extraordinary event. In terms of the industry response I am pleased.
Does it prove you need more resources?
I think you can always have more resources in a particular area but you need to balance against the frequencies of these events. As I say we will take our time to look at that and think what we need to do next.
The 5th Annual Cold Comfort Scotland winter maintenance conference and exhibition takes place on 26th April at the Hilton Dunblane Hydro. Take advantage of the Early Bird Discount by registering today.