The Government has asked those in 'critical national infrastructure' to continue working throughout the second lockdown period which begins on 5 November and will run until at least 2 December.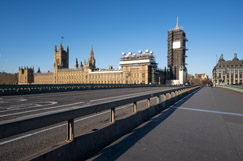 Transport and infrastructure workers should continue to travel to work/attend their workplace as 'this is essential to keeping the country operating and supporting vital sectors and employers,' ministers said.
'If you need to travel we encourage you to walk or cycle where possible, and to plan ahead and avoid busy times and routes on public transport. This will allow you to practise social distancing while you travel.'
The government also released safer travel guidance for those using public transport to get to work, which includes the rules on wearing face masks and advice on car sharing.
Cabinet ministers have not ruled out extending the lockdown after 2 December. The situation will be reviewed, and at the end of the period, the Government aims to return to a regional approach, based on the latest data.
As with the first lockdown, which started in March, people are required people to stay at home and stop gathering with those they do not live with, except for specific purposes such as medical needs.
The Government is also closing 'non-essential' businesses and venues with a full list due to be published along with the law underpinning the restrictions.
Food shops, supermarkets, garden centres and certain other retailers providing essential goods and services will remain open.
All 'non-essential' retail, indoor and outdoor leisure facilities such as bowling alleys, entertainment venues and personal care facilities such as hair, beauty and nail salons, will close.