Construction has begun on the £207m Preston Western Distributor scheme on the west side of the city.
The £161m new road, which will run from the M55 to a new junction with the A583 Blackpool Road at Lea, aims to reduce congestion and queuing on parts of the road network. A flythrough (bottom of page) shows all three roads.
It is the biggest new road programme in the Preston, South Ribble and Lancashire City Deal. Lancashire County Council said it will support local economic growth and improve access to the Warton Enterprise Zone.
The scheme also includes two new roads connecting to the current and future development of thousands of homes in the Northwest Preston Strategic Housing Site, bringing the total package cost to £207m.
A ground-breaking ceremony was attended by Cllr Geoff Driver, leader of Lancashire CC; Jim Carter, Lancashire Enterprise Partnership board member and chair of the City Deal; Matthew Brown, leader of Preston City Council; Harry Hancock, mayor of South Ribble; and Nicola Elsworth from Homes England.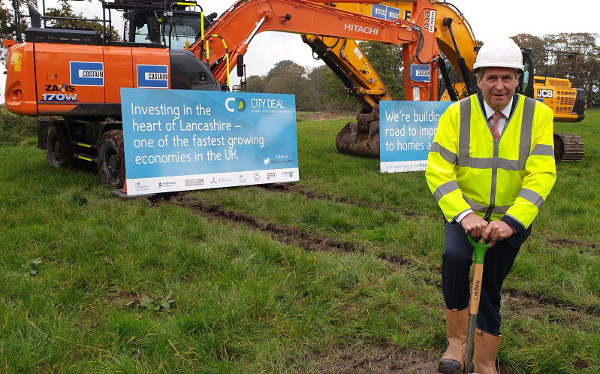 Speaking ahead of the event, Mr Driver (pictured) said: 'This ambitious £207m scheme will transform the way people in the area live, travel and work.'
Funding for the new roads is coming from the Department for Transport (DfT) and the Lancashire Growth Deal, managed by the Lancashire Enterprise Partnership. Further funding comes from Highways England and the Preston, South Ribble and Lancashire City Deal.
It was one of four longstanding Local Growth schemes given the go-ahead by the DfT last month.
Bruce Parker, Highways England's head of planning and development, for the North West said: 'We're delighted this project is getting underway with a £25m investment from us – representing our commitment to help deliver thousands of new jobs and homes in the area as well as reducing congestion at neighbouring motorway junctions.'
The road is scheduled to open in 2023.
The main works on the scheme are being constructed by Costain, which said it was one of a number of new highways contracts it won in the last quarter - totalling more than £150m.
It said its appointment to the scheme follows successful collaboration with Lancashire CC during Early Contractor Involvement, 'drawing on Costain's consultancy expertise to progress the scheme through planning, design development and the budget development phases'.
Costain has also recently been awarded a contract by Highways England to install enhanced highways technology within three areas in the South East. This technology will assist with the management of traffic on the trunk road and motorway network.
CEO Alex Vaughan said: 'We're at the forefront of this exciting sector, helping our clients shape the UK transportation landscape. An increasing number of companies are looking for consultancy and digital technology expertise, alongside complex programme capabilities, in the delivery of vital projects to support our highways network.'