The UK has only 15% of the electric vehicle charging points it needs to meet net zero, according to new analysis.
The Committee on Climate Change said there needs to be around 150,000 public charge points operating by 2025 but the research by Labour shows there are currently only 22,790.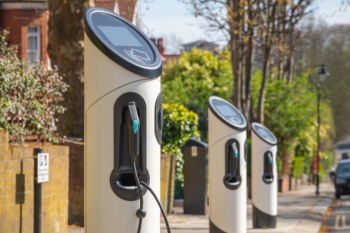 The research also highlights a 'serious' regional disparity in the number of charging points as there are four times as many charging points in London than in Yorkshire.
Labour warns this will create 'two-tier transport' Britain and pricing some families out of car ownership.
Ed Miliband, Labour's shadow business secretary, said: 'The Government's failure to roll out charging points across the country and the decision to cut the plug-in grant risks baking in unfairness in our country as we move towards a zero emission future.
'For the minicab driver who relies on their car for work and is thinking the price of an electric car is simply out of their reach. For the commuter who relies on their car but is also worried about being priced out. For those in rural areas, the Midlands and the North where you may not be able to access a charging point.'
AA president Edmund King said: 'To speed up the electric vehicle revolution there is a long standing debate as to what comes first; the cars or the charge points?
'The reality is we need both to happen at the same time, with particular focus on the 30 to 40% of homeowners that have no access to dedicated off-street parking.'
This article first appeared on localgov.co.uk.