Road repair specialist Velocity has trialled 'innovative' preservation treatments on local roads in Newbury.
Working with term maintenance contractor VolkerHighways, Velocity initially treated 6,000m2 with ASI's Rhinophalt as part of a 25,000m2 project.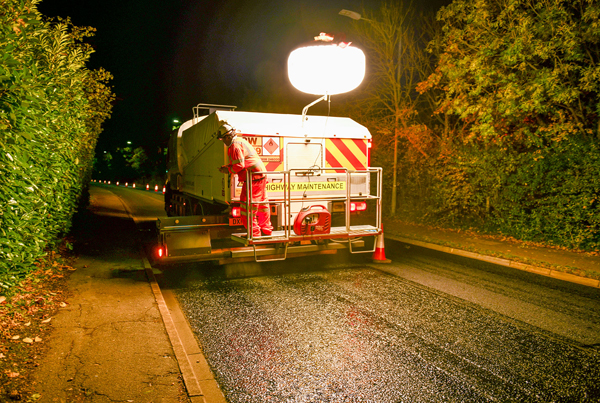 Velocity is an approved installer of Rhinophalt, which it said is particularly suited to roads that are in 'green' to 'light amber' condition and locks-in the current state of the road, preventing deterioration.
In partnership with ASI, Velocity developed a programme to treat a mix of roads in the town, including residential roads and dual carriageways.
Carrying out the work overnight under lane-closures, a 6000m2 distributor road in a residential area was treated. A curing time of around two hours saw the road treated in its entirety and open for traffic the following morning.
Velocity Preservation was launched in the summer to bring Rhinophalt to the UK's local road network, where Velocity has relationships with local authorities delivering spray-injection patching.
Business development manager Gavin Blogg said: 'With the introduction of Velocity Preservation, we have a treatment for all of the local roads network. We bring roads in red or amber condition up to standard with Velocity Patching, and now we can protect roads that are in green or light amber condition with Velocity Preservation using Rhinophalt.
'The product really hits the agenda of prevention rather than cure, keeping roads in good condition at low cost.
'This is the first preservation project we have carried out so far. Customers have shown a great appetite for this, seeing the benefit and where it fits into their asset management programmes.'
Rhinophalt contains Gilsonite, a naturally occurring bitumen, and penetrates the road surface to depths of 30mm, setting hard in any microcracks and air voids to prevent the ingress of water and oxidisation of the carriageway.
Deterioration is prevented for up to five years.