Leading road marking specialist WJ Group has announced a strategic partnership with THI Investments, which will provide financial and operational resources to develop the business.
THI Investments is a family-owned investor of long-term capital with offices in Stuttgart and London and a background in the automotive sector.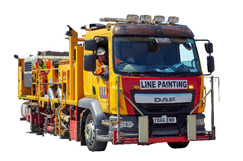 The company is providing WJ Group 'with the capital, operational understanding and support for sustainable organic growth, acquisitions and technological advancement'.
WJ Group managing director Wayne Johnston said: 'We are excited about attracting such a high calibre partner in THI and while our existing management team will not change, we will now have significant investment and business development support to take advantage of the unique opportunities presented by a rapidly changing industry.'
A partnership agreement was reached following a thorough due diligence process to ensure that the vision and values of both parties were fully aligned.
WJ aims to expand its customer base, products and services while continuing to develop value-added solutions for clients across the UK road network and be at the forefront of innovation.
THI managing director private equity Edmund Buckley said: 'WJ Group is an impressive business and we are pleased to partner with a management team who exhibit a great culture and responsible approach to business including a focus on safety and sustainability for people, customers, communities and the environment.'