WSP has been appointed by Highways England as the designer on two smart motorway contracts worth more than £2.6m.
The firm will provide engineering and design services on the M62 Junction 20 to 25 linking Yorkshire and Lancashire and the A1(M) Junction 6 to 8 near Stevenage.
Both projects will convert these sections of road into all lane running smart motorways - permanently converting the hard shoulder into a running lane.
The four-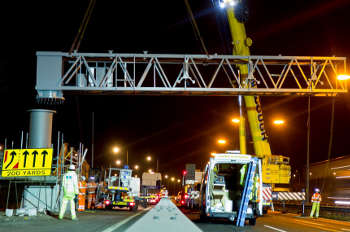 lane M62 smart motorway link will run for 31km through the Pennines, while the A1(M) scheme will see the existing two-lane section around Stevenage upgraded to three lanes.
Nearby towns such as Harlow and Cambridge are expected to experience significant growth with potential for housing development along the route to accommodate up to 13,000 new homes by 2030, WSP said.
WSP's smart roads programme director, Phil Barton, commented: 'We will work collaboratively with Highways England and supply chain partners to deliver its smart motorway network of the future and implement innovative technologies to enhance safety, reduce congestion and smooth traffic flows for customers using the network.'
Other Smart Motorway schemes currently involving WSP include the M4 (J3 – 12); M6 (J21a – 26); M27 (J4-11), and M62 J10-12, as well as a 32-mile stretch of the M1 between junction 28 near Mansfield and junction 35a north of Sheffield, in collaboration with delivery partner Costain. The £330m project, which opened in 2017, is the longest smart motorway section implemented to date.