The Department for Transport (DfT) has appointed WSP to revise and update its cycling infrastructure design guidance.
Refreshing the Local Transport Note 2/08 Cycling Infrastructure Design was a key element of the Government's Cycling and Walking Investment Strategy, published in April 2017, which aims to increase cycling and walking and make these forms of transport 'the natural choices for shorter journeys, or as part of a longer journey'.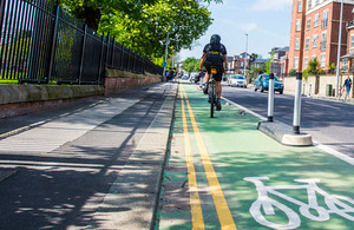 WSP said that with the cycling population ever growing, and new legislation and innovations in cycle infrastructure design, 'the time is right for this key document to be refreshed'.
It has brought together a combined team of technical expertise from across WSP, Phil Jones Associates, Mott MacDonald and academic support from the University of West England, Bristol.
They will work with the DfT, as well as engaging with cycling bodies and a Key Stakeholder Steering Group, to review the current guidance and to recommend and implement changes to the document to ensure it aligns to current practice.
Nigel Wilkinson, project director at WSP said: 'This is a significant win for WSP, and our sub-consultant team, and we are delighted to be working with the DfT to refresh this key piece of national guidance.
'It is hoped that this refresh will ensure that the guidance aligns to current legislation and will provide best practice for use by all parties who design cycle infrastructure.'
The team will look to consider recent innovations in cycling infrastructure as well as addressing future trends in transport, health and safety as part of WSP's global initiative, Future-Ready, 'to help projects to be prepared for tomorrow's world'.
The review is due to be complete early next year.
WSP has previously worked on a number of key local and national guidance documents with technical experts from within the fields of cycling and walking.