The Welsh Government is seeking to appoint a contractor to construct infrastructure, including a 1km road, for a 100 acre development site in Bridgend that could become a logistics hub for the expansion of Heathrow airport.
According to the contract notice, the estimated total value of the job is £7m.
The works to construct the primary infrastructure of the site at Brocastle, Bridgend include but are not limited to: the construction of approximately 1km of new highway, associated drainage, utilities infrastructure and landscaping to facilitate future development and substantial earthworks cut and fill to construct level development plateaus.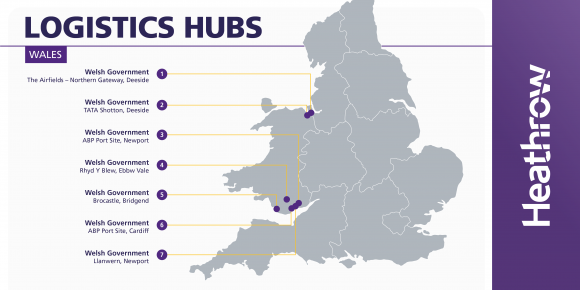 Brocastle is one of seven sites longlisted as a possible Heathrow logistics hub in Wales
A Welsh Government spokesperson told Highways: 'Works are being undertaken at Brocastle in Bridgend to provide over 100 acres of fully serviced employment sites, capable of supporting around 72,000 square metres of employment floor space. The works will be part-financed by European Regional Development Funding.
'Alongside this, the site is being considered by Heathrow Airport Ltd, who have committed to locate four logistics hubs in different parts of the UK to widen their supply chain and ensure the extensive build programme for the expansion programme is resilient, sustainable and cost effective.
'The sites will have a focus on off-site manufacture and assembly, improving logistics arrangements to reduce the impact on airport operations and provide opportunities for local supply chain companies and offer significant legacy opportunities for successful host locations.'
The contract notice states that the successful supplier or suppliers will be required to deliver community benefits in support of the Welsh Government's economic and social objectives. 'Accordingly, contract performance conditions may relate in particular to social and environmental considerations.'
Full details of the community benefits are provided in the procurement documents.
Construction of the scheme is programmed for completion by December 2019.